Flange Mounted Filters
The Screensert® Filter Element provides point-of-use filtration in new or existing system without modification.
This filter element is specifically designed to allow the addition of point-of-use filtration in a system by simply inserting the element into any standard fitting connection immediately upstream of a contaminant-sensitive component.
Because many applications demand a unique combination of micron rating, flow, differential pressure and filtration area, we also design filters to meet customer-specific requirements.
Features
Available for flared or flareless fittings in all line sizes
All stainless steel construction
Minimum pressure drop
Wide range of micron ratings available
Excellent in high pressure applications
Pleated elements for maximum filtration area
Rigimesh® sintered woven wire cloth material -- eliminates media migration
Custom designed
PALL AEROPOWER P/N: 25972-

-


37° FLARED FITTING, PINCHED CONE ELEMENT, REVERSE FLANGE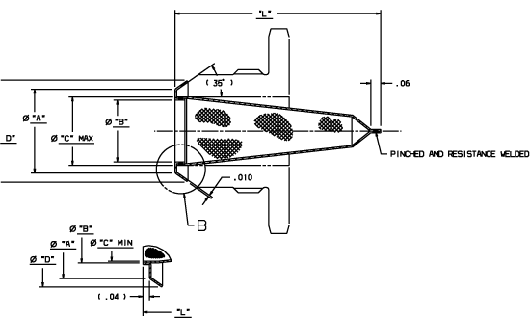 "B" DETAIL FOR -3, -4, AND -5 SERIES
Tube Size

"D" Dia.
(Ref.)
"A" Dia.
(Ref.)
"B" Dia.
(Ref.)
"C" Dia.
Min./Max.
"L" ± .06 
Eff. Area
Square In.
(Ref.)
-3 (3/16")
.27
.154
.100
.070
.92
.19
-4 (1/4")
.28
.202
.140
.107
.98
.27
-5 (5/16")
.38
.262
.195
.165
1.04
.39
-6 (3/8")
.440
.325
.236
.285
1.10
.52
-8 (1/2")
.61
.43
.331
.380
1.37
.84
-10 (5/8")
.72
.55
.420
.470
1.57
1.17
-12 (3/4")
.91
.675
.540
.590
1.79
1.78
-16 (1")
1.17
.93
.780
.830
1.95
2.65
-20 (1-1/4")
1.39
1.15
.960
1.060
2.18
3.47
-24 (1-1/2")
1.69
1.385
1.220
1.300
3.74
11.0

FILTRATION TABLE
MICRON RATING (NOMINAL)
CODE             
Liquid Service
Gas Service
Nominal  µm
Rating
Absolute µm
Rating
Nominal µm
Rating
Absolute µm
Rating
2
2
15
1
9
5
5
18
3.5
13
10
10
25
6
18
17
17
45
11
25
40
40
70
30
55
70
70
105
50
85
105
105
150
85
130
145
140
205
120
175
250
250
260
250

260


NOTES AND SPECIFICATIONS:


FIRST DASH NUMBER SPECIFIES TUBE SIZE (SEE TABLE).
SECOND DASH NUMBER SPECIFIES NOMINAL MICRON RATING
(250 MICRON IS STANDARD).
FILTER MEDIUM:  RIGIMESH® SINTERED WOVEN WIRE MESH.
FILTER IS A RESISTANCE WELDMENT.
MATERIALS:  AISI TYPE 300 SERIES, CRES