For Measurement of Water Content in Oil
The Pall WS10 Series water sensor is an ideal, low-cost, in-line, monitoring solution for measuring dissolved water content in hydraulic, lubricating and insulating fluids. Specifically designed for use in harsh and often remote industrial environments, readings are transmitted continuously to the user's control systems as a key component in the predictive maintenance of plant and machinery.
Features
A sensing probe directly immersed in the fluid to monitor dissolved water content and temperature
Water content output in % saturation
Temperature in °C or °F
High pressure option up to 100 bar (1450 psi)
Simple and flexible installation, simple to operate
Robust all in-one modular housing and sensing probe design
Two analogue outputs, 4 - 20 mA, for connections to existing SCADA and DCS systems
The Effect of Water in Oil
Water contamination in fluids can cause numerous problems such as additive depletion, oil oxidation, corrosion, reduced lubricating film thickness, microbial growth, and reduction of dielectric strength. These costly problems can be averted with continuous monitoring of oil water content so that timely action can be implemented.
Hydraulic, lubricating and insulating fluids should be operated without the presence of free water and with dissolved water levels at 50 % saturation or considerably lower in the case of insulating oils.
Water Content Measurement in Oil
PPM
The common industry practice has been to report water content in oil in terms of parts per million (PPM). Most fluids can tolerate a certain degree of water contamination, but at what level is it considered excessive? 200 PPM of water in a phosphate ester based oil would be excellent. However, the same amount would be catastrophic in a transformer oil.
% Saturation
An alternate way to report water content is as a percentage of the water saturation level of the fluid for a given temperature. One advantage of this method is that it provides a better measure of how close the water content is to the water saturation level of the oil and hence, the formation of free water in the fluid. The WS10 water sensor reports the presence of dissolved water in oil in the range of 0 % to 100 % of saturation. If an oil is cloudy due to free water contamination at the measurement temperature, the WS10 Water Sensor will display 100 % saturation, until steps are taken to bring the water content below the saturation point.
Simple Installation
The Water Sensor enclosure is designed in modular form for safe and convenient installation. The M12 connector allows for electrical wiring of the Water Sensor for power and sensor output. Each section of the enclosure fits securely to achieve at least IP65 (NEMA 4) moisture protection rating.
 
Supply Voltage
21-28 VDC (requires ≥ 200 mA))
Working Temperature Range
Sensing Probe
- 40 °C to 125 °C (-40 °F to 275 °F)
Electronics
- 40 °C to 80 °C (-40 °F to 176 °F)
Fluid Compatibility
Petroleum based and synthetic fluids. The water sensor is not to be used in water based fluids or aerospace phosphate ester hydraulic fluids.
Pressure Range
Standard Model
Up to 20 bar (290 psi)
High Pressure Model
Up to 100 bar (1450 psi)
Probe Connector
1⁄2 in. NPT (male) or 1⁄2 in. BSPP (male)
Electrical Connector
M12 - included in scope of supply
Accuracy
Humidity Sensor
± 2 % 0 to 90 % RH and ± 3 % 90 to 100 % Traceable to international standards, administered by NIST, PTB, BEV
Temperature Sensor
Pt 1000 (Tolerance Class A, DIN EN60751)
Enclosure
IP65 (NEMA 4)
Weight
0.43 kg (0.95 lb)
Calibration Services
Available from Pall; contact your local representative
Outputs
4-20 mA Load < 500 Ohm
OUT 1 = 0 to 100 % RH
OUT 2 = -25 to 125 °C (-13 to 257 °F)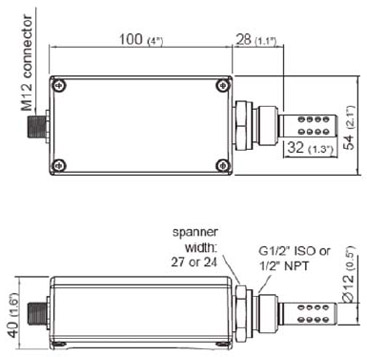 M12 Connector Configuration
(IEC 61076-2-101)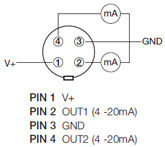 There are numerous applications for the WS10 Water sensor, including:
Primary Metals
Rod Mill High Speed Lube Systems
Cold Mill Tandem Mill
Tilt Furnace HPU's
Power Generation
Wind Turbine Gear Box Lube
Main Turbine Lube Oil
Transformer Oil
Pulp and Paper
Dryer Section Lube Systems
Wet End Lube Systems
Press Section Hyd/Lube Systems
Powerhouse - Steam Turbine Lube Systems
Marine
Main propulsion lubrication
Hydraulic active fin stabilization
Industrial In-plant
Automotive
Offshore / Petrochemicals
Diagnostic and Monitoring Equipment
Water Sensor P/N: WS10 S
[1] [2]
Table 1: Relay Options
 
Code
Probe Options
B08
1⁄2 NPT connector
C08
1⁄2 BSPP connector
 
Table 2: Probe Options
 
Code
Pressure Options
None
20 bar (290 psi) Standard
H
100 bar (1450 psi) High Pressure