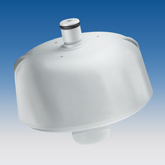 Potable water systems are often contaminated with particulate matter and microorganisms. The Pall point-of-use (POU) water filter is designed to offer immediate, validated protection for passengers and crew against waterborne pathogens.
Features
Sterilizing grade membrane provides protection from waterborne micro-organisms
Bacteriostatic additive to reduce retrograde contamination
Vented housing for pressurized aircraft systems 
Fully recyclable materials 
Maximum lifetime - meets aircraft maintenance schedules 
Benefits
Provides instantaneous protection
Reduces the risk of waterborne infection
Cost-Effective
Qualified to international aerospace standards
Suitable for pressurized water systems (built-in air venting)
Design based on technology widely used in hospitals
Environmentally friendly
How Does it Work?
The double layer 0.2 μm membrane protects against waterborne particulate and microbial contamination, including pathogens such as
Legionella spp
.,
Pseudomonas spp
. and
Cryptosporidium parvum
. To minimize the risk of inadvertent cross-contamination and retrograde contamination, the filter housing material utilizes silver technology as an enhanced, non-leaching bacteriostatic additive.
| | |
| --- | --- |
| Figure 1 | Figure 2 |
|   |   |
| Figure 3 | Figure 4 |
|   |   |
| Figure 5 |   |
Pall POU filters are compatible with systemic treatments like continuous heating (at 60 °C), heat and flush procedures (at 70 °C), and chlorine dioxide disinfection.
For more scientific information on how the POU filters work,
The point-of-use water filter has been qualified for the Airbus A380 aircraft. It can also be used in the following applications:
Commercial Aircraft
Military Aircraft
Military Fighting Vehicles
Military Ships & Submarines
Cruise Ships
To determine if your application is suitable, contact your local Pall sales representative.
Each product is designed specifically for each application. For ordering information,
contact
your local Pall Aerospace sales representative.
Typical Part Numbers
For availability of specific part numbers beginning "QC0"
Pall Aerospace Ltd (UK).