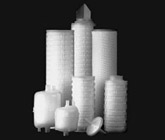 Need Help?

More Information

Description
HDC® II filter cartridges are constructed of pure polypropylene, high area, pleated media. This new generation of HDC II filters, unlike the original HDC filters and other polypropylene pleated filters, has incorporated a proprietary concept into its medium construction: varying the fiber diameter continuously to produce a pore size distribution from coarse (upstream) to fine (downstream). This unique construction permits more contaminants to be trapped in the outer layers of the medium, thus substantially increasing dirt-holding capacity. The finer inner layers are essentially unchanged from those of the original HDC medium, thus maintaining the absolute rating of the filter.
Relative filter life studies, both in the laboratory and in the field, have shown that this new construction increases service life as much as four times compared to other filters of similar appearance.
Removal ratings range from 0.6 µm (micron) to 70.0 µm absolute. Refer to Bulletin HDC 700 for more detailed information.