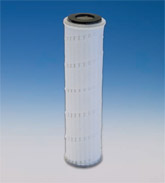 Need Help?

More Information

Description
Profile® UP filters are 63.5 mm (2.5 in.) diameter pleated polypropylene cartridges. The absolute-rated filter medium is constructed using Pall's proprietary method of varying fiber diameter
continuously
to create a tapered pore filter medium.
Given the unique medium construction and a proprietary
crescent-shaped pleat structure
, the pressure drop of the Profile UP filters is as low as half that of higher area pleated filters and as low as one-fifteenth that of conventional depth filters. Consequently, Profile UP filters provide exceptional service life. Profile UP filters can best be described as Pall's Ultipleat® filters utilizing Profile depth filter media. As a result, these filters are thicker than conventional pleated filters and are optimized for gel removal and sharp, distinct particle removal. This makes the elements ideal for viscous fluids and dispersions in addition to those many applications where long service life is desired.
For P and W options, the filters are constructed entirely of FDA-listed materials and the absolute rating of the filter is based upon the widely accepted modified Oklahoma State University (OSU) F-2 Filter Performance (Beta Rating) Test.
 
Features
Advantages
Benefits
Absolute-rated medium

Consistent reproducible filtration
No media migration
No unloading of contaminants

Pleated depth filter medium

Excellent gel removal
Selective particle removal
Long service life

Higher product yields
Enhanced filtration of dispersions
Lower filtration costs

Crescent-shaped medium configuration

Pressure drop as low as one-fifteenth that of depth filters, as low as half that of pleated filters with the same removal ratings
Optimized filter area
Optimized for viscous fluids

Faster fill rates
Smaller filter assemblies required
Lower filtration costs
Higher product yields

Polypropylene filter construction

Wide chemical compatibility
Removal of trace oils
Cartridge may be totally incinerated

Lower filter inventories
Higher product yields
Lower waste disposal costs