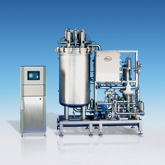 Need Help?

More Information

Description
The Principal of CFS
Pall® CFS (Cluster Filter System) has been in industrial use since 1995, and is today the brewing industry's reliable, economic successful technology for the cold stabilization of beer. Successful membrane filtration of beer requires two somewhat opposite processes to take place:
Low and gentle flux during beer filtration, to ensure the beer is not affected by the dynamic forces across the membrane
High and robust flux during rinsing and cleaning
Generally, membrane systems are a compromise of these two requirements. The patented CFS technology offers the brewery an alternative that optimizes both criteria. Cluster filtration, groups filter elements into clusters. With each cluster having its own individual outlet valve. During filtration all clusters are open. Cleaning, sterilization and
integrity testing
is done cluster by cluster.
The Advantages of the CFS Principle
The unique cluster principle offers the brewery significant advantages, primarily these are:
Prolonged service life
In-situ integrity testing
Individual cluster integrity diagnosis
Specific rinsing
High specific flux velocity
Short rinsing time
Constant stream over all cartridges
Minimized water consumption
Fast changing of the filter element
Controlled backflush
Minimized beer losses
High biological safety
Permanent availability
The combination of the
in situ
integrity testing of the cluster filter and the 100% integrity testing of the membrane cartridges during manufacture lends the CFS to form a robust part of any brewery's HACCP procedures. The system not only ensures the microbiological consistency of the brand produced for consumers, but also acts as an effective indicator of any manufacturing process variation.