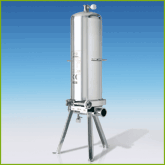 Need Help?

More Information

Description
Pall Advanta filter housings have been specifically designed and engineered for today's manufacturing processes. These advanced housings are manufactured from 316L stainless steel and are engineered to meet the requirements of the BioPharmaceutical industry. State-of-the-art manufacturing technologies are used to construct a housing ideal for the most critical of applications. This multi-round version of the Pall Advanta housing range is designed to allow up to four filter elements in parallel arrangement. During the design process, critical features were optimized to ensure trouble-free use and low installation and maintenance costs. Areas included in this process were:
Surface finish
Suitability for CIP and SIP
Integrity testing
Incorporation into automated production processes
Features
Aseptic design

Crevice-free electropolished surface with an internal Ra value of  < 0.4 µm (< 15 µin.)
Fully self draining
No dead legs

Low hold-up volumes for maximum product recovery
Quick fit Stäubli-type* connections for easy filter integrity testing
Easy to use low-point sanitary drain valve
Range of options to aid use in automated production systems
Options available for use with CIP spray cleaning device
Every housing supplied with a quality certificate and manufactured to ATEX Directive 94/9/EC (Group ll Category 2)
Design variants to ASME and European Pressure Equipment Directive, CE marking available
*Stäubli is a trademark of Stäubli AG.