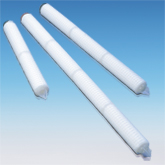 Need Help?

More Information

Description
Pleated Depth Filter Designed Specifically
for Particle Trap Filtration in Beer
This Pall Profile Star TF filter has been designed specifically for use as a particle trap filter to remove filter aid particles from bright beer. The filter utilizes the proven and successful Pall technique of varying the fiber diameter to produce a pore size gradient from coarse (upstream) to fine (downstream), while maintaining a high open area throughout the depth of the filter medium. This proprietary construction has been optimized to deliver the benefits of both traditional pleated and depth style trap filters - the ideal combination.
Features and Benefits
Construction optimized for consistent performance under variation in flow or ΔP increase
Filter medium designed to prevent fiber migration into the filtered beer
Very high contaminant holding capacity
Designed for reverse flow cleaning to optimize filter service life
All polypropylene construction
No surfactants or binder resins used in manufacture
Consistent and verifiable filtration performance
Long service life, low filtration costs
High flow rates
Excellent resistance to typical brewery use chemicals
Continuous construction without side seam for durability and security of use
Extra security provided by bayonette lock and double o-ring seal
All materials meet the requirements for biological safety tests per USP for class VI
plastic at 121 ºC