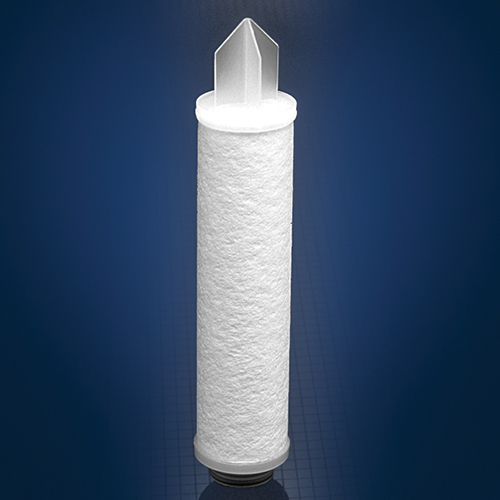 Need Help?

More Information

Description
Nexis A filter cartridges are high performance melt blown depth filters ideal for use in rigorous food and beverage clarification and particle removal applications.
Nexis A series high efficiency depth filter cartridges are constructed using an advanced, microprocessor-controlled CoLD Melt™ production process that permits the creation of multiple filtration zones within a single filter cartridge. The multi-zone design produces a gradient pore structure which effectively captures larger particles in the outer sections of the filter cartridge while providing highly efficient and consistent removal of smaller particles in the inner sections.
Interlocking and thermally bonded large diameter support fibers combined with ultra-thin filtration fibers create a rigid filter matrix that withstands dynamic operating conditions. A high internal void volume enables the capture of more contaminant than conventional melt-blown, string wound or molded filter cartridges.
The result is a high performance, low cost of ownership cartridge characterized by robustness in operation, long service life, and excellent removal efficiency
 
Features
Benefits
Fixed fiber matrix with interlocking, thermally bonded support and filtration fibers

Excellent removal efficiency
Consistent filtration performance
No unloading of contaminants

Micro-thin fibers with continuous graded pore structure provide pre- and fine filtration in the same cartridge

High void volume for high dirt holding capacity and long service life
Economical cost per filtered volume
Lower disposal costs

Proprietary high strength center core
Reliable even under high differential pressure conditions
All polypropylene construction without adhesives, binders, resins or silicone
Broad chemical compatibility, suitable for use in a variety of fluids