"Inverted Filter Orientation"
This range of Pall® filter housings has been designed and engineered to meet the demands of Food and Beverage applications such as beer, wine, spirits, soft drinks, and bottled water. All product contact components are manufactured from corrosion resistant 316L stainless steel. Each housing has an electropolished internal finish throughout to ensure hygienic operation. The range includes options to accommodate from eight to forty four bayonette locking, double o-ring seal filters. The extensive range of Pall filters can be incorporated to provide the optimum combination for specific filtration applications.
Features and Benefits
Inverted filter design
Large inlet and outlet connections allow high flow rates with low differential pressures
Electropolished internally to ensure smooth and easy to clean surfaces
Large vent and drain connections which aid emptying and rapid cartridge changeout
High security closures ensure safe operation at high pressures
Materials of Construction
Head and bowl: 316L stainless steel
Legs and clamps: 304 stainless steel
O Ring seal: ethylene propylene1
Maximum Operating Pressure
Maximum Operating Temperature
Surface Finish
External: Glass Bead
Internal: Electropolished
Standardvent/Drain Connections
25 mm DIN 11851 Male. For other options please contact Pall
Filter Cartridge Compatibility
Pall AB code 7 filter cartridges
Design Specification
Design capability of 5 times maximum operating pressure
Each housing hydrostatically tested to 1.3 times maximum operating pressure
Dimensions*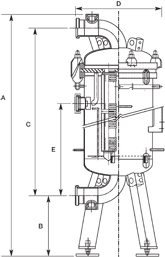 Housing
Nominal Dimensions in mm
A
B
C
D
E
SFG7083GNW50
1470
290
1120
352
782
SFG7084GNW50
1720
290
1370
352
1032
SFG7123GNW65
1521
290
1164
400
806
SFG7124GNW65
1769
290
1412
400
1054
SFG7193GNW80
1594
284
1236
500
840
SFG7194GNW80
1842
284
1484
500
1089
SFG7313GNW80
1653
290
1289
600
861
SFG7314GNW80
1901
290
1537
600
1109
SFG7443GNW100
1765
252
1428
720
928
SFG7444GNW100
2013
252
1676
720
1176
*Sufficient height above the housing for cartridge removal should be allowed.
Approximate Water Flow/Pressure Drop for
Food and Beverage Filter Housings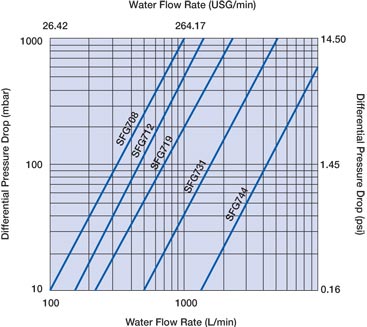 The liquid flow/pressure drop characteristics refer to the empty housing only for water at 20 °C (68 °F). For other liquids, multiply pressure drop by the specific gravity.
Housings, Vessels, or Assemblies
This information is a guide to the part number structure and possible options. For availability of specific options and housing details, please contact Pall. Example Part Number: SFG7
08
4
G
NW65
(See bold references in tables below.) Part Number: SFG7 < Number of Cartridges Code from Table 1> < Cartridge Length Code from Table 2> G < Connection Code from Table 3>
Table 1 - Cartridges
Code
Number of Cartridges
08
8
12
12
19
19
31
31
44
44
Table 2 - Nominal Length
Code
Cartridge Nominal Length
3
762 mm (30")
4
1016 mm (40")
Table 3 - Inlet/Outlet Connection
Code
Standard Inlet/Outlet Connection
NW50
50 mm DIN 11851 Male
NW65
65 mm DIN 11851 Male
NW80
80 mm DIN 11851 Male
NW100
100 mm DIN 11851 Male
Housing Closure Seal Material - Ethylene Propylene
Accessories
Description
Ordering Reference
Vent/Drain valve
ACS0085CU
80mm DIN stub adaptor kit
ACS0139GA
80mm DIN hosetail adaptor kit
ACS0140GA
Vent, drain, pressure gauge and view glass assembly
ACS0616AU
25mm Blanking Plate
ACS0157AA
50mm Blanking Plate
ACS0840AM
Pressure Gauge (0-10 barg linear)
ACS0867FA
Replacement Parts
Description
Ordering Reference
Rathmann Clamp kit
ACS0006DA
Ethylene Propylene Housing Closure Seal Kit1
SFG708
LS00363
SFG712
ACS0027EX
SFG719
ACS0041EX
SFG731
ACS0052EX
SFG744
ACS0069EX
15mm DIN Seal (2)
ACS0055EU
25mm DIN Seal (2)
ACS0060EU
1The seal materials employed meet FDA requirements for food contact use as detailed in 21 CFR Section 177.2600