Pleated Depth Filter Designed Specifically
for Particle Trap Filtration in Beer
This Pall Profile Star TF filter has been designed specifically for use as a particle trap filter to remove filter aid particles from bright beer. The filter utilizes the proven and successful Pall technique of varying the fiber diameter to produce a pore size gradient from coarse (upstream) to fine (downstream), while maintaining a high open area throughout the depth of the filter medium. This proprietary construction has been optimized to deliver the benefits of both traditional pleated and depth style trap filters - the ideal combination.
Features and Benefits
Construction optimized for consistent performance under variation in flow or ΔP increase
Filter medium designed to prevent fiber migration into the filtered beer
Very high contaminant holding capacity
Designed for reverse flow cleaning to optimize filter service life
All polypropylene construction
No surfactants or binder resins used in manufacture
Consistent and verifiable filtration performance
Long service life, low filtration costs
High flow rates
Excellent resistance to typical brewery use chemicals
Continuous construction without side seam for durability and security of use
Extra security provided by bayonette lock and double o-ring seal
All materials meet the requirements for biological safety tests per USP for class VI
plastic at 121 ºC
Food Contact Compliance
Food contact compliant filters are available. Please consult the Declarations of Compliance for applicable part numbers at the links below.
Profile Star TF Filters Declaration of Compliance
Materials of Construction
Filter Media: Polypropylene
Core and Cage: Polypropylene
Endcaps: Polypropylene 
O-rings: Ethylene Propylene Rubber
Operating Temperatures and Pressures
 
Maximum Operating Temperature*
Maximum Differential Pressure
80 ºC (176 ºF)
 3.4 bar
 50 ºC (122 ºF)
 5.0 bar
 
*In fluids which do not soften, swell or adversely affect the filter or materials of construction.
Maximum Steam Sterilising Temperature
Maximum Recommended Steam Life
Liquid Flow vs. Differential Pressure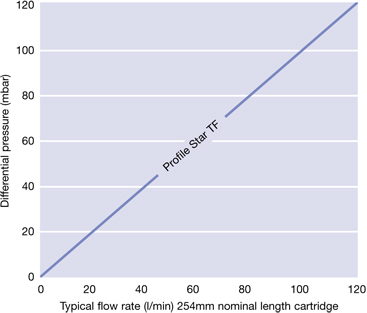 Note: Differential pressures are for liquids with a viscosity of 1 centipoise (cP). For cartridges of 508 mm, 762 mm, 1016 mm nominal length, divide the differential pressure by 2, 3 and 4 respectively. To obtain the total pressure drop of a complete filter assembly the housing pressure drop must be added. Please refer to the relevant housing literature or contact Pall.
  Recommended flow rate for sizing 12 hl/hr per 10 in. module
This information is a guide to the part number structure and possible options. Example Part Number: AB
4
TF
7
W
J
(See bold references below.)  Part Number: AB <Length Code from Table 1 >
TF < 7 (Adaptor Style) > W < J (Material Seal) >
Table 1 - Nominal Length
 
Code
Nominal Length
1
254 mm
2
508 mm
3
762 mm
4
1016 mm
 
Adaptor Style (7)
Bayonet lock with double O-ring seal
Seal Material (J)
Ethylene Polypropylene Rubber