Durable, Corrosion Resistant
Design for Liquid Applications
The Pall range of non-metallic single cartridge housings offers an economical answer to low flow requirements. Non-metallic housings are available with polypropylene heads and a choice of polypropylene or SAN bowls to suit a range of chemical applications. Filter assemblies should not be used with fluids incompatible with the materials of construction. These industrial designed housings are ideally suited for use with low flows where a metallic housing is not required.
Cost effective alternative to stainless steel in corrosive fluid applications
Accepts 20 in. (50.8 cm) DOE or Pall M5 (Code 5) style cartridge
Fixed guides in head and shell ensure proper alignment and seating of cartridges
Manufactured from materials which are listed for Food Contact Applications in Title 21 of the U.S. Code of Federal Regulations
4.1 (9)Materials of Construction
Head1
   LMO-U: Polypropylene
   LMO-UP: Polypropylene
Shell
   LMO-U: Polypropylene
   LMO-UP: SAN (Styrene Acrylonitrile)
Maximum Operating Pressure
LMO-U: 8.6 bar (125 psig) @ 52 °C (125 °F)
LMO-UP: 6.9 bar (100 psig) @ 66 °C (150 °F)
Connections
Shell O-rings
Ethylene propylene (standard), Nitrile, neoprene, fluorocarbon elastomer
Standard Colors
LMO-U: Opaque with blue head and shell
LMO-UP: Blue head and clear shell
Food and Water Contact Use
Please contact Pall Corporation to verify that the product conforms to your national legislation and/or regional regulatory requirements for water and food contact use.
Selection Criteria
LMO-U
LMO-UP
Ultra Violet Light
Recommended
Fair
Strong Acid
Recommended
Fair
Weak Acid (<20%)
Recommended
Recommended
Organic Solvent
Recommended
Not Recommended
Strong Oxidizing Agent
Recommended
Not Tested
Weak Base (<20%)
Recommended
Recommended
Strong Base
Recommended
Fair
This housing is not recommended for compressed air or gas service. It is suitable for use with fully compatible (which do not soften, swell or adversely effect the product or its materials of construction) liquids only. This housing is not recommended for acid service at the pressure shown. Please contact Pall for detailed compatibility information.
NOTE: Use of this product in a manner other than in accordance with Pall's current recommendations may lead to injury or loss. Pall cannot accept liability for such injury or loss.
Dimensional Date (Nominal)
Dimensions cm (in.)
Model
Liquid Flow Rate2 lpm (gpm
A
B
Weight kg (lb)
LMO20U-3/4
to 75.7 (20)
57.2 (22.5)
13.7 (5.38)
4.1 (9)
LMO20UP-3/4
to 75.7 (20)
57.2 (22.5)
13.7 (5.38)
Housing Differential Pressure vs. Liquid Flow Rate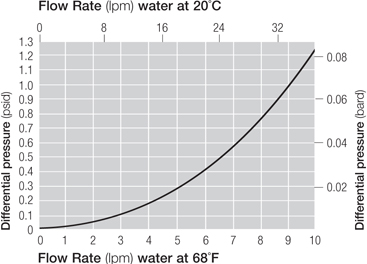 Unit conversion: 1 bar = 100 kpa

For liquids other than water, multiply differential pressure by the specific gravity of the fluid.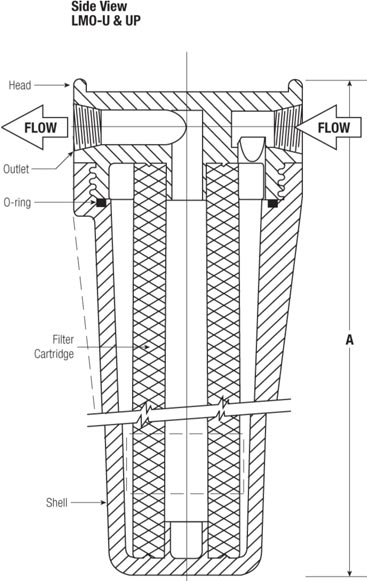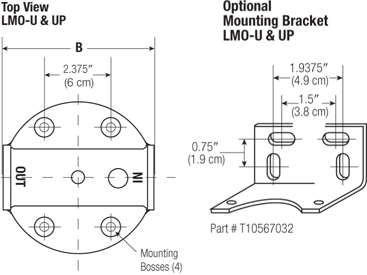 1Housing head has mounting bosses, which accept self-tapping screws for attaching a bracket to the housing.
2Dependent upon cartridge selection, fluid viscosity and allowable pressure drop.
Housings, Vessels, or Assemblies
This information is a guide to the part number structure and possible options. For availability of specific options and housing details, please contact Pall.
Example Part Number: LMO 20 U -3/4 (See bold references in table below)
Part Number: LMO 20  < Code from Table 1 > -3/4
Table 1 - Material of Construction
Code
Materials of Construction
U
Polypropylene
UP
SAN