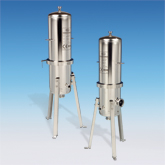 Need Help?

More Information

Description
For Use in Food and Beverage Production
This range of Pall® filter housings has been designed and engineered to meet the demands of Food and Beverage applications such as beer, wine, spirits, soft drinks, and bottled water.
All product contact components are manufactured from corrosion resistant 316L stainless steel. Each housing has an electropolished internal finish throughout toensure hygienic operation.
The range includes options to accommodate from eight to forty four bayonette locking, double o-ring seal filters. The extensive range of Pall filters can be incorporated to provide the optimum combination for specific filtration applications.
Features
Inverted filter design
Large inlet and outlet connections allow high flow rates with low differential pressures.
Electropolished internally to ensure smooth and easy to clean surfaces.
Large vent and drain connections which aid emptying and rapid cartridge changeout.
High security closures ensure safe operation at high pressures.