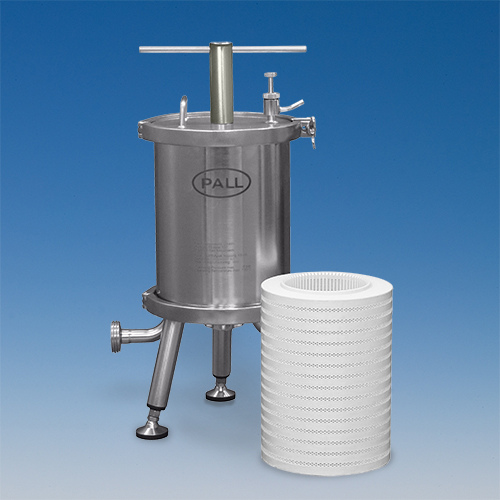 Need Help?

More Information

Description
For Small Batch Depth Filtration
SUPRApak S series filter housings are designed for use with SUPRApak S filter modules, to handle small batch, high value food and beverage filtration applications.
SUPRApak S series filtration units provide a closed system approach to high capacity depth filtration, maximizing product protection and minimizing product losses.
SUPRApak S units hold one SUPRApak module (Figure 1), representing about 0.5 m
2
(5.4 ft
2
) of filtration area in a very compact and low hold-up volume design.
The units also provide a logical choice for carrying out small-scale pilot trials, to demonstrate the operation and benefits of this revolutionary alternative to classical flat sheet filtration.
Features
Benefits
Closed filtration system
Increased process safety and product quality; no drip losses; minimum operator exposure to process fluids
Compact design accommodates high sheet area
High throughput filtration for small batch production
Drainable, low hold-up volume assembly
Higher product yield; minimized cleaning costs
High quality surface finish, sanitary and crevice-free design
Enhanced cleanability
Clamp coupling housing closure
Ease of handling during filter change-out and cleaning
Simple, quick installation and servicing
Reduced labor and maintenance costs; reduced process downtime
ATEX (94/9/EC) Group II Category 2 certification available
Suitable for use in potentially explosive environments