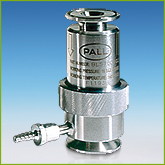 Need Help?

More Information

Description
To meet the increasing demand for small-scale filters for laboratory use and process development, Pall has developed the the Junior B series housings. These are some of the smallest stainless steel housings on the market yet can achieve very high-flow rates using specially developed Pall SBF-style pleated cartridges. For small-scale filtration this Junior range is less cumbersome than larger housings or difficult-to-use disc holders. All styles are suitable for in situ steam-sterilization in sterile processes.
Features and Benefits
Minimal size and weight makes these filter housings ideal for bench-top use, or for installing into processing equipment, for both gas and liquid filtration up to 10 bar (145 psi) operating pressure.
The electropolished crevice-free surfaces give maximum cleanliness for sterile processes. In situ steam-sterilization and steam autoclaving up to 140 °C (284 °F) can be employed
Housings are made of 316L stainless steel, and are therefore resistant to a wide variety of chemicals 
Maximizes product recovery, particularly important when filtering small-batch or high value products
Plug-in double O-ring cartridges in a selection of Pall filtration media are available to give maximum filtration quality, economy and performance for individual applications
Available in T-flow or inline styles with butt weld or sanitary inlet and outlet connections