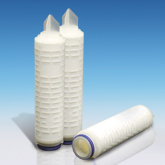 Need Help?

More Information

Description
Highly Effective Particulate
Colloid Removal from Water
The Fuente Colloids filter cartridge is designed to remove colloidal matter from process water used in the beverage industry. The filter membrane provides increased dirt holding capacity when compared to melt blown depth-style media improving the service life of downstream final filters, thus reducing average filtration running costs by 20%. The polyethersulfone media allows repeated cold chemical sanitization cycles which improves filtration costs.
This filter is integrity testable. An in-situ and non-destructive integrity test can provide assurance of filter performance within minutes. Integrity tests help manufacturers avoid costly issues such as product contamination, product losses, reprocessing and production delays, as well as satisfying auditor requirements.
Learn more about the importance of Integrity Testing and microbial filtration
 
Features
Benefits
Asymmetric polyethersulfone media

High dirt holding capacity
Broad chemical compatibility
Suitable for repeated sterilization or sanitization for economical operation