Jacketed Filter Housings are fabricated with either T-Type or In-Line flow designs and AB style Code 7 fitting configurations for single open-ended (SOE) sanitary AB style filter cartridges. They offer the added feature of a 316L stainless steel jacket for temperature control using hot water or steam, and are suitable for gas service or liquid flows to 20 gal/min (75 L/min) with minimal pressure drops.
Features
Corrosion resistant 316 L Stainless steel jacket for temperature control
In-Line or T-Type flow designs
Entire housing electropolished
Internal surfaces with < 0.4 µm (< 15 µin.) Ra surface finish
External surfaces with < 0.8 µm (< 32 µin.) Ra surface finish
Low hold-up volume - maximizes product recovery
Easy-draining features, including downward sloping internal contour and low-point drain - allows easy removal of CIP solution or product
Fewer welds - results in an extremely sanitary design
Automated orbital welding - produces consistent high quality welds
Non-rotating vent and drain - prevent twisted hoses and allow hard piping
Manufactured for use in conformance with cGMP
3-A Sanitary Standard Symbol for optimized CIP/cleanable design
Manufacturing Quality System Certified to ISO 9000 Standards
Materials of Construction
Housing: 316L stainless steel
Jacket: 4.9 barg at 140 °C (72 psig at 284 °F)
Inlet and Outlet Connections: 1 1⁄2 in sanitary coupling
Jacket: 1⁄2 in. NPT
Standard Gasket O-ring Material: Ethylene Propylene
Design Pressure and Temperature
10 barg at 140 °C (150 psig at 284 °F)
Jacket
4.9 barg at 140 °C (72 psig at 284 °F)
Nominal Diameter
Number of Cartridges
Cartridge Style
Legs and Support
ALT: Stand available
ALI: None
Closure Style: Vee-band clamp
Flow Configuration
Operating Conditions
Maximum Operating Pressure: -11 to 10 barg (-14.51 to 1502 psig)
Maximum Operating Temperature: 150 °C (300 °F)
Typical Water Flow Rates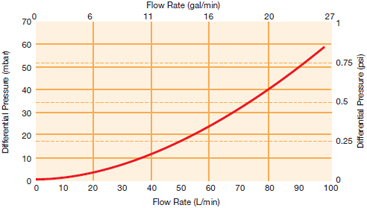 1Full vacuum.
2With compatible fluids, which do not soften, swell or adversely affect the gasket materials.
Housings, Vessels, or Assemblies
This information is a guide to the part number structure and possible options. For availability of specific options and housing details, please
contact Pall
. Example Part Numbers:
   ALT1
1
J23
B N
H4
   ALI1
1
J23L
B N
H4
   (See bold references in tables below) Part Number: ALT1/ALI1 < Cartridge Code from Table 1 > J23/J23L < Vent Code from Table 2 > < Drain Code from Table 3 > H4
Table 1 - Cartridge Type
Code
Cartridge Type
1
AB1 code 7
2
AB2 code 7
3
AB3 code 7
4
AB4 code 7
Table 2 - Vent
Code
Vent
A
Sanitary valve with quick-release coupling
B
Sanitary valve with 8 mm (0.314 in.) hosetail
C
ISO 2037/BS 4825 with side sanitary valve with quick release fitting for Stäubli type coupling
D
1⁄2 in. sanitary flange to ISO 2037/BS 4825
N
None
Table 3 - Drain
Code
Drain
B
Sanitary valve with 8 mm (0.314 in.) hosetail
D
1⁄2 in. sanitary flange to ISO 2037/BS 4825
N
None