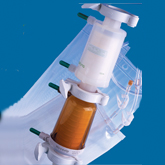 Need Help?

More Information

Description
Disposable filtration systems
typically consist of disposable components such as capsule filters, aseptic connectors, bags and piping or tubing. As an integrator of disposable systems, Pall can provide reliable validation assistance to the users of disposable systems. Pall has the product knowledge and laboratory analytical expertise to complete validation projects for disposable systems of a wide range of sizes and materials of construction. Pall's close link with industry and regulatory agencies ensures an up-to-date validation approach reflecting the latest thinking, thus achieving an effective and successful validation.
Approaches
Analytical work can be performed for individual components or to the entire disposable system. A model system is used for the validation analysis. This model system is composed of the same materials of construction as those of the user system and is assembled as it is used in process. If the actual system is sterilized by gamma-irradiation before use, then the test is performed on an irradiated system. In the case of extractables study, a model solvent approach is used to select a suitable extracting solvent for analysis. For example, worst-case solvents can be selected to represent a range of buffers with varying pH values. For applications that involve a filter attached to a bag or a filter attached to a bag with an aseptic connector, the model solvent is filtered into the bag according to the specific process steps and then stored for the appropriate period. Typical models for buffer solutions include: water for injection (WFI) pH adjusted to > 9, < 9, and WFI at neutral pH (5 – 7). A similar approach can be used for media and for product.
Validation Services Available to a Disposable System
Capsules
Bacterial Challenge
Compatibility
Product Viability
Product Wet Integrity Testing
System
Extractables
Bags
Extractables
Compatibility
Kleenpak Connector
Extractables
Compatibility