Need Help?

More Information

Description
Pall's Membralox ceramic membrane elements are ideal for applications that involve extreme processes, such as high solids bulk processes, the use of high temperatures or pressures, or aggressive solvents, and where significant long-term durability is required. Available ratings start at very low molecular weight ultrafiltration used for duties such as unwanted protein removal from antibiotic solutions, through to open (up to 5 µm) microfiltration membranes that can be used to process difficult materials such as microspheres, or clarify solvent-based plant extracts in transgenic processes. Membralox membrane elements are available in 3 different channel diameters to allow optimization for solids loading. Some configurations are available with unique longitudinal permeability gradients, that facilitates the control of permeate rate along the length of the module. Membrane elements are available in sizes ranging from small laboratory devices through individual modules of over 20 square meters surface area, ensuring the ability to evaluate and scale up processes to any size.
Membralox ceramic membranes comprise a highly controlled surface membrane layer that is formed on the inner (feed-side) surface of a more open support layer. Three different types of materials are available, ultrapure, µalumina, zirconia and titania. All of these materials are FDA-listed for suitability in pharmaceutical processes. Ceramic membranes exhibit near zero non-specific adsorption of biological materials. Membralox ceramic elements featuring an asymmetric membrane structure combine a unique design and manufacturing process resulting in a product ideally suited for applications involving chemicals, including solvents, extremes of pH, high temperatures and pressure processing of and fermentation broths. The compact multi-channel geometry and high permeability are optimized for bulk processing applications. Multiple modules each comprising a number of membrane elements can be easily assembled on manifolds to handle any scale of operation.
Features
Reliability
Ease of use
High flux
Proven long operational life
Wide chemical and pH (0 – 14) compatibility
Excellent thermal stability
Sanitizable and sterilizable
Element burst pressure > 50 bar
Ability to withstand high frequency backpulsing cycles
Components are FDA-listed in 21 CFR Part 11
100% bubble point integrity-tested
Ceramic Membrane Structure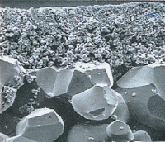 Electron Micrograph showing Membralox membrane layers on top of a more open support layer.