Palltronic® Compact Touch Accessories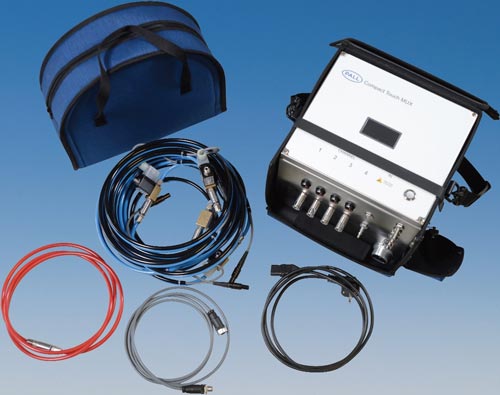 Unit of Measure
1/EA
Min Order Qty
1
Width (Imperial in)
9.8 in
Height (Imperial in)
11 in
Depth (Imperial in)
8.7 in
Test Results Storage
1000 Results
Test Program Storage
1000 Programs
Languages
10 English, German, French, Italian, Spanish, Russian, Chinese, Japanese, Portuguese and Brazilian Portuguese
See All Attributes
Increase Production Efficiency by Integrity Testing Multiple Filter Assemblies Simultaneously
The Palltronic Compact Touch MUX extension enables a single Palltronic Compact Touch integrity test device to perform a Pall Pressure Decay Test on up to four filter assemblies simultaneously.
The test unit is a small, lightweight, portable instrument weighing 7 kg (15.4 lbs.). Data input to the MUX Extension instrument is done via the Compact Touch integrity test device touchscreen with all essential information displayed. The integrity test unit stabilizes the test pressure and measures pressure decay for a defined time.
The test device is dust-proof and splash-proof in accordance with IP55 rating providing protection against severe laboratory and production conditions. The venting system includes external vent valves to prevent fluid contamination backing into the unit on completion of the filter integrity test.
The MUX extension reduces pressure hold test time of up to 4 identical filter assemblies by ≥50 %. By utilizing two units in combination with one Compact Touch up to 8 identical filter assemblies may be tested.
CE Declaration
The Palltronic Compact Touch MUX Integrity Test Instrument Extension is compliant to:
European Directive 2014/30/EU (formerly 2004/108/EC) – Electromagnetic Compatibility
European Directive 2014/95/EU (formerly 2006/95/EC) – Low Voltage Safety
European Directive 2011/65/EU – Restriction of Hazardous Substances (RoHS2)
European Directive 2012/19/EU – Waste Electrical and Electronic Equipment (WEEE)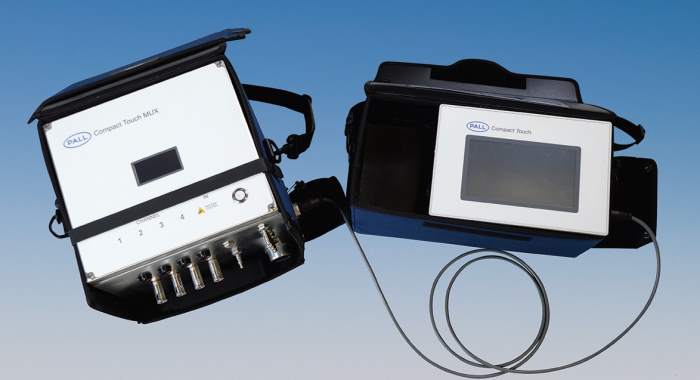 Physical Dimensions
250 (w) x 280 (h) x 220 (d) mm
(9.8" x 11" x 8.7")
Weight
Unit without casing 7 kg (15.4 lbs.)
Filter Tests
Pressure Decay Test
Operating System
Linux*
Test Program Storage
Up to 100 programs
Test Result Storage
Up to 1,000 tests
Languages Display and Input
English, German, French, Spanish, Italian, Portuguese, Brazilian
Languages Display Only
Chinese, Japanese, Russian
Communication Ports
CAN bus for product extensions
Pressure Measurement Measuring Range
50 - 6000 mbar (0.73 – 87 psi)
Pressure Measurement Accuracy
± 0.5 % of full scale (6000 mbar)
Resolution
1 mbar (0.0145 psi)
Calibration Limits
± 0.33 % of full scale (6000 mbar)
Electrical Data
Voltage automatically adjusted between
100 – 240 V AC 
Input Frequency 50 Hz / 60 Hz 
External Vent Valve 24 V DC
Monochrome Screen
Size: diagonal 6.9 cm (2.7 in)
128 x 64 pixels Illuminated Background
Pneumatic Specifications
Maximum Gas Supply Pressure:
8,000 mbar (116 psi)
Minimum Gas Supply Pressure:
1,000 mbar (14.5 psi) above test pressure
Test Pressure Range:
50 – 6,500 mbar (0.7 – 94.2 psi)
Pneumatic Connections
Compressed Air Inlet: Male Stäubli* Nipple
RBE03.6150
Compressed Air Outlet: Female Stäubli
Coupling RBE03.2904
Vent: Hose connection 8 mm outer diameter
Operation and Storage Conditions
Operating Temperature:
3 °C to +50 °C (+37 °F to +122 °F)
Storage Temperature:
-20 °C to +70 °C (-4 °F to +158 °F)
Humidity: < 95% rh (no condensation)
IP Rating
IP55
ATEX
This instrument is not suitable for use in ATEX regulated atmospheres.
Recycling Information
Please visit the Pall website for information
on recycling: https://www.pall.com/en/
about-pall/corporate-sustainability/weeecompliance.
html
 
Diagnostic and Monitoring Equipment
 
Part Number
Description
CT001-MUX

Compact Touch MUX extension unit
Mains adaptor with UK, UE, US and Aus/NZ plug
Carry Case
Red pressure line with male and female Stäubli connections
4x blue pressure line and external vent valve with male and female Stäubli connections
USB flash drive with pre-loaded IFU English, German, French, Spanish, Italian, Portuguese, Brazilian, Chinese, Japanese, and Russian
Quick Start Guide