For Vent Applications
VFK Series filter housings are specifically designed for venting applications in the food and beverage industry. The in-line flow patter n of VFK housings ensures minimized pressure drop and user-friendly filter cartridge change-outs. They can be equipped with a variety of air/gas filter cartridges to address the various needs of the industry, efficiently protecting product and processes from airborne contamination.
Features
Benefits
Simplified design, optimized flow dynamics

Convenient configuration, easy to install on containers and tanks
Minimized pressure drop for lower cost of ownership

Fully self-draining
Sanitary design, ease of use, satisfying standard F&B requirements
High quality surface finish
Enhanced cleanability
Simple bowl closure system
Operator-friendly handling during change-outs and maintenance
316L stainless steel material
Corrosion resistance and durability
Variety of sizes and connection styles
Choice and convenience for easy assembly
Materials of Construction
Wetted parts 1.4404 (AISI 316L stainless steel)
Maximum Operating Temperature1, 2
Surface Finish
BE Design:

<

0.4 micron Ra ( 

<

16 Ra microinches)
E1 Design:

<

2.0 micron Ra (

<

79 Ra microinches)
Connections3
DIN 11851
Clamp coupling – IDF ferrule
Filter Cartridge Compatibility4
Pall Code 2 or Code 7 single open-end
Nominal Dimensions in mm (inches)
 
Code
Cartridge height
L1 Bowl height
L2 Clearance height
L3 – Clamp coupling
L3 – DIN connection
05
127 (5)
280 (11.0)
280 (11.0)
310 (12.2)
330 (13.0)
1
254 (10)
400 (15.7)
400 (15.7)
430 (16.9)
400 (15.7)
2
508 (20)
650 (25.6)
650 (25.6)
680 (26.8)
700 (27.6)
3
762 (30)
895 (35.2)
895 (35.2)
925 (36.4)
945 (37.2)
 
For specific dimensions and other connection types, please contact Pall. L1 L2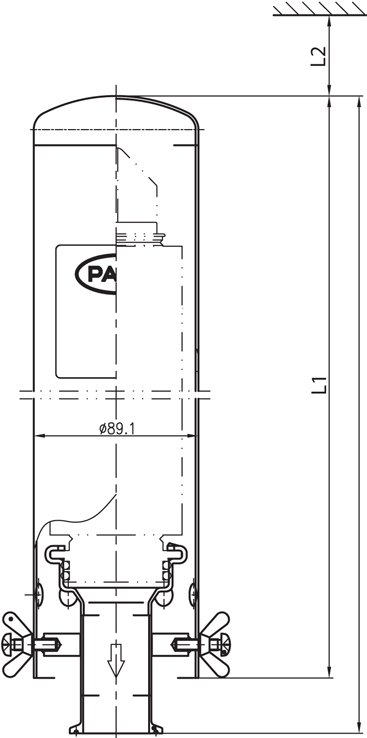 Typical Air Flow Rates / Pressure5 At Atmospheric Vent Conditions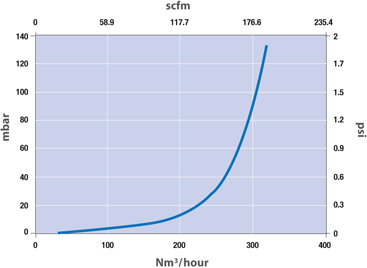 Volume and Weight
 
 
 
Weight kg (lb)
Code
Volume L (US Gal)
L2 – Clamp coupling
L2 – DIN connection
05
1.7 (0.45)
1.8 (3.97)
2.5 (5.51)
1
2.4 (0.63)
2.2 (4.85)
3.0 (6.61)
2
3.8 (1.00)
3.1 (6.83)
3.8 (8.38)
3
5.0 (1.32)
3.8 (8.38)
4.6 (10.14)
 
1Maximum operating pressure and temperature ratings are vessel ratings only. Safe operation will also depend on filter element and seal use. For compatibility details, please contact Pall.
2For applications requiring in-line steam sterilization, please contact Pall for suitable housing series to use.
3For other connection types, please contact Pall.
4Refer to Pall Food and Beverage filter element literature for additional guidelines on use.
5The in-line design of the Pall VFK series vent housing ensures exceptionally low pressure drop. Pall recommends using the gas filter cartridge pressure drop when calculating the system pressure drop with maximum gas flow capacity under actual conditions. For proper vent sizing, especially in the case of pressure or vacuum-sensitive vessels, please contact Pall. Installation of appropriate rupture discs is highly recommended.
Housings, Vessels, or Assemblies
This is a guide to the part numbering structure and possible options only. For availability of specific options, please contact Pall.
Example Part Number:VFK 01 1 G7 31 BE
Part Number: VFK 01 <Table 1> G7 <Table 2> <Table 3>
Table 1: Cartridge Height
 
Code
Height
05
127 mm (5")
1
254 mm (10")
2
508 mm (20")
3
762 mm (30")
 
Table 2: Connection to Vessel
 
Code
Description
23
Clamp coupling 1.5" – IDF
31
Clamp coupling 2.0" – IDF
NW50
NW50 DIN 11851
 
Table 3: Surface Finish
 
Code
Description
BE

<

0.4 μm Ra (

<

16 Ra μinches)
E1

<

2.0 μm Ra (

<

79 Raμinches)