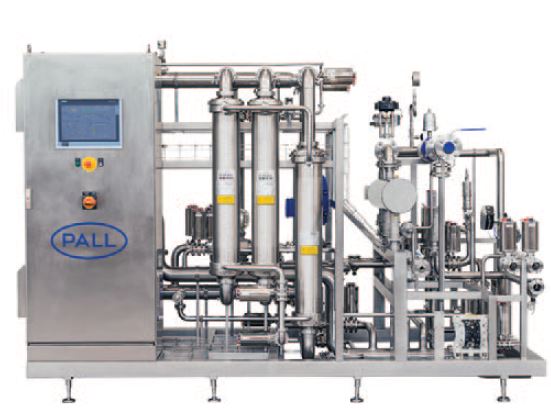 Need Help?

More Information

Description
For Beer Clarification and Stabilization
Pall's PROFi Craft System is a crossflow membrane-based solution for beer clarification and stabilization specifically designed as an alternative to traditional Diatomaceous Earth filters used in Craft Breweries. Drawing on the experiences at large scale installations, the PROFi Craft combines the advantages of an automated process with simple and robust operation flexible to accommodate the variety of beer types and batch sizes required by the breweries.
Description
The PROFi Craft is a fully automated standalone crossflow filter system for small to medium throughputs. The system operates in combination with a centrifuge positioned upstream of the system to reduce the solids load on the membranes resulting in prolonged membrane life, reduced operation cost and beer losses. Beer flow is always in the forward direction eliminating the need for a retentate tank for easier installation and operation. The system is skid mounted and includes:
Filter housings with membrane inserts
Instrumentation and connection valves for beer, water, steam and cleaner inlet and outlet
CIP capability including heat exchanger, dosing pumps and water filter
Control cabinet and HMI for fully automated operation
 
Features
Benefits
Cluster design with unique lower positioned end module

Emptying through lower positioned module in forward direction reduces beer losses to < 30 liters/run
Negligible oxygen pick up (typically < 0.02 ppm)

Cross failure test on membrane function prior to every filtration run

Ensures high microbial safety for every batch

Forward flow principle

Reduced solids load at filter inlet results in prolonged cycle time and membrane life
Eliminates contamination risk
Fast brand changes with negligible beer losses
Low crossflow velocity for gentle beer filtration

Patented Pall membrane design with stainless steel housing

Quick and easy membrane changes
Robust design with optimal service life
Operator safety

Simple cleaning process

Readily available, standard cleaners to minimize operating costs

Plug and play standalone system

Fast and flexible installation and start up
Easy to operate – no special skillset required

 
Applications
The PROFi Craft System is applicable for clarification of beer including cold hopped beer and mix beer drinks.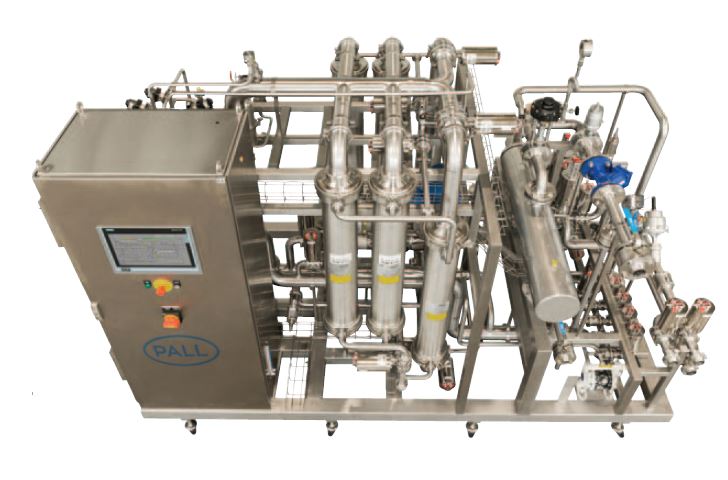 Specifications
Technical Data
 
PROFi Craft 6
PROFi Craft 12
Typical flow rate (hl / h)
30 – 80
80 –150
System volume (l)
300
380
Max pressure (mbar/ psi)
2,000 /29
2,000 /29
Footprint (lwh)
3220 x 1680 x 2305
3720 x 1680 x 2312
Weight (kg / lbs)
1,700 / 3748
1,950 / 4299
Beer Connection
DN 50
DN 65
CE Mark
Yes
Yes
 
Modules
Pall patented design including hollow fiber insert for usage in stainless-steel housings:
 
Membrane Material
Polyethersulfon (PES)
Pore structure
Reverse asynchron
Pore size
0.65 μm
Fiber diameter
1.4 – 1.6 mm
Filter area /module
12,3 m²
Typical flux
50 – 80 l /m²h
Yeast removal rating%
99.9998
 
Membrane Cleaning
Cold and warm water flush at max 64 °C- chemical clean with 0.5 to 1% caustic at 64°C
Regeneration step with Ultrasil CMF and Peroxide at 75 °C
Integrity testing after each cleaning/regeneration
Total time water/caustic flush: 45 min
Total time complete cleaning: 90 min
Performance
Quality
PROFi Craft is designed for a gentle crossflow filtration at low shear force velocity in order to maintain beer characteristics throughout the filtration process. Fully automated operation results in negligible oxygen pickup enabling fresh product from start to end.
Materials and Regulations
PROFi Craft Filtersystems and modules are manufactured according to ISO 9001:2008 certified Quality Management System. Systems are CE marked. For Food Contact Compliance info please refer to the Pall website www.pall.com/foodandbev for declaration of compliance to specific National Legislation and/or Regional Regulatory Requirements for food contact use.
For specific enquiries please contact Pall to provide you with more detailed information and application specific data.