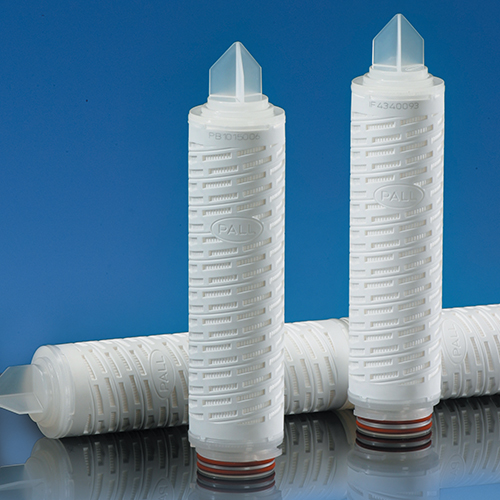 Need Help?

More Information

Description
Supor Beverage filter cartridges are hydrophilic membrane filters designed for reliable retention of spoilage microorganisms in the final filtration of wine.
Description
The Supor Beverage filter was developed and validated for removal of spoilage microorganisms.
The cartridge is constructed from one layer of 0.45 micron polyethersulfone (PES) membrane in a laid-over pleat configuration. The single open ended (SOE) configuration is designed to fit into sanitary housings to ensure effective microbial reduction and assembly integrity.
Supor Beverage filter cartridges are suitable for exposure to repeated hot water sanitization and in situ steam sterilization cycles for longer service life. The laid-over pleat configuration combined with optimized support and drainage materials, provide increased mechanical strength during operation, repeated hot water, chemical and steam sanitization and thus, high throughput.
This filter is integrity testable. An in-situ and non-destructive integrity test can provide assurance of filter performance within minutes. Integrity tests help manufacturers avoid costly issues such as product contamination, product losses, reprocessing and production delays, as well as satisfying auditor requirements.
Learn more about the importance of Integrity Testing and microbial filtration.
 
Features
Benefits
Proprietary Supor (PES) media

Maintaining organoleptic characteristics of filter product
Minimal interaction with valuable colloids
Wide range of chemical compatibility

Cartridges resistant to numerous sanitization cycles

Process reliability
Economical operation
Consistent filtrate quality

Hydrophilic membrane

Easy to wet and integrity test

Validated with wine spoilage microorganisms

Brand protection
Increased process safety

Individually serialized cartridges
Integrity testable

Brand protection
Documentation for quality records

Multiple adaptor options

Easy installation into sanitary housings

 
Materials Construction
 
Filter Medium*
Polyethersulfone (hydrophilic)
Support and Drainage
Polypropylene
Core, Cage, End Cap and Fin End
Polypropylene
Adaptor
Polypropylene with an internal stainless steel reinforcing ring
O-ring Seal
Ethylene propylene rubber or Silicone elastomer
 
*Each 10" module contains 0.77 m2 (8.3 ft2) of effective filtration area.