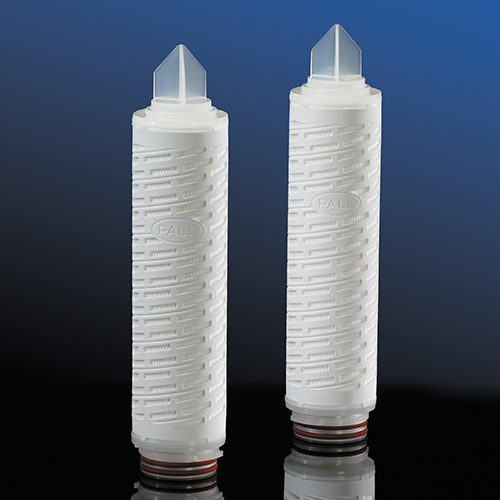 Unit of Measure
1/EA
Min Order Qty
1
Filter Cartridge Style
Code 7
Cartridge Length (Imperial)
30 in
Cartridge Length (Metric)
762 mm
Cartridge Length (Metric)
76.2 cm
Maximum Differential Pressure
5.5 bard @ < 50° C (122◦ F)
See All Attributes
Pall Corporation has designed the OenoClear cartridges for the wine industry as a complete, reliable and economical alternative to sheet (pad) filtration. A fully enclosed hygienic cartridge filtration assembly can be utilized in applications such as final clarification,
pre-filtration
and yeast removal in wine processing. Having been specifically engineered for the wine industry, OenoClear cartridges incorporate a unique, polyaramid membrane in a single open ended (SOE) AB style cartridge to fit in a sanitary housing of the wine filtration equipment to ensure complete yeast removal and allow repeated regeneration
in situ
. This combination of efficient yeast removal and extended service life enable OenoClear filters to replace sheet filtration, offering improved performance and better economics.
Features
Long service life - excellent economics
Intrinsically water wettable
Fixed pores, non-shedding
Resin and surfactant –free
Flushed with high purity water
Fully enclosed system for hygienic operation
Low holdup volume for minimum product losses
Can maintain performance under pulsed flow conditions
Performance not operator dependent
High area for long life
Can enhance final filter life
Simple cleaning to increase life
Hot water sanitizable
Repeatedly steamable in situ
Individually serialized
ISO 9000 Certified Quality System
Manufactured in a controlled environment
Available as an automated system
Food Contact Compliance
Food contact compliant filters are available. Please consult the Declarations of Compliance for applicable part numbers at the links below.
Please refer to the Pall website foodandbev for a Declaration of Compliance to specific National Legislation and/or Regional Regulatory requirements for food contact use.
Materials of Construction
FDA-Listed materials per 21 CFR
Membrane: Polyaramid (on cellulose substrate)
Support and Drainage Layers: Polyester
Endcaps, Cage, and Core: Polypropylene
O-rings: Silicone1
Removal Ratings
An alternative to sheet filters typically referred to as 0.2 µm nominal
Typical Saccharomyces cerevisiae TR is > 109
Typical Oenococcus oeni TR is > 106

Dimensions (Nominal)
Lengths: 510 mm (20 in.), 760 mm (30 in.), 1015 mm (40 in.)
Configuration (AB Code 7)
Adapter: Double 226 O-ring
Finned end, bayonet lock
Biological Safety
All materials are listed in Title 21 of the US Code of Federal Regulations
Operating Conditions2
Maximum Operating Pressure (forward): 60 psid (4 bard) at 80 °C (176 °F)
Maximum Reverse Pressure: 7 psi (500 mbar) at 20 º C (68 °F)
Autoclave/Steaming In Situ
Autoclaveable or Steamable in situ
Cumulative Steam Exposure3: 25 hrs at 121 °C (250 °F)
Sanitization/Cleaning3
Hot Water Cumulative Exposure: 50 hours at 85 ºC (185 °F)
Peroxyacetic Acid (300 ppm) Cumulative Exposure: 50 hours
Alkaline hypochlorite (300 ppm) Cumulative Exposure: 50 hours
Pressure Drop vs. Liquid Flow Rate4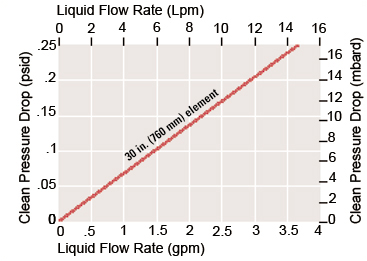 1Other polymers available. 
2Using compatible liquids.
3Lab tests establish multi-cycle resistance; filters should be qualified in actual use. Cool to ambient temperature before use.
Contact Pall for recommended procedures.
4Typical initial clean media ΔP per 30 in. (760 mm) element for water at 68°F (20°C); viscosity 1 centipoise. For 20 in. (508 mm) and 40 in. (1016 mm) configurations, divide the differential pressure by 0.67 and 1.33 respectively. For assistance in filter assembly sizing and housing selection, contact your local Pall Distributor or Pall Corporation directly.
 
Part Number5
Length6
AB2SR7WH4
510 mm (20 in.)
AB3SR7WH4
760 mm (30 in.)
AB4SR7WH4
1015 mm (40 in.)
 
5W indicates optimized and qualified for Food and Beverage use.
H4 suffix = Silicone O-rings (standard).
Alternate O-rings are available.
6Dimensions are nominal