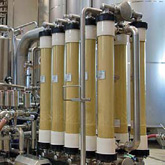 Need Help?

More Information

Description
Single Step Protein
Stabilization and Clarification
Protein stabilization and clarification are two critical steps to satisfying consumer expectations for a bright wine. While both steps prevent
haze formation
, one to remove heat sensitive proteins, the other suspended solids, the traditional commercial processes are typically carried out in consecutive phases adding labor, time and waste to the winemaking process. With Pall's new Oenofine XL Filtration System, wineries can now combine these operations into a single cost saving process step.
Providing Sustainable Value
By increasing yields, reducing waste volumes and combining process steps, the Oenofine XL systems provide wineries with a cost saving sustainable alternative to traditional wine stabilization and clarification methods.
Benefits
Cost Savings
Combined stabilization and clarification steps
Reduced waste and wine lees volumes
Reduced labor and handling 
Sustainability
Reduction in solid waste for landfill

Up to 30% less bentonite consumption
No filter aid (DE) requirement

Up to 50% reduction in energy and water consumption
Higher yields, lower product loss
Eliminates exposure or inhalation of potential carcinogen (DE)
Brand Protection
Consistent filtrate quality with Pall's proven PVDF membranes
Data monitoring and process trend recording
Food contact compliance
Creating Value
Eliminates settling time after traditional protein stabilization
Increases winery turn-over or tank space capacity
Flexibility to use for clarification only