MICROsorp OC filter cartridges are pre-filters designed to protect Fluorodyne® II JSDW grade filters in bottled water applications.
The MICROsorp OC filter was developed to provide reliable protection of sterilizing grade filters in bottled water applications.
The MICROsorp OC has a pleated filter pack comprising a resin-bonded liquid crystal fiber filter medium with cellulose substrate. The single open ended (SOE) configuration is designed to fit into sanitary housings to ensure effective protection of the downstream membrane filter.
The MICROsorp OC filter is suitable for exposure to in situ steam sanitization cycles for longer service life.
 
Features
Benefits
Media

Liquid crystal polymer media
Wide range of chemical compatibility
Improved protection of the final membrane filters
Low operating costs
Efficient colloid reduction

Fixed pore structure

Maintains performance with pulsed flow conditions

Enclosed assembly

Hygienic operation
Low hold up volume
Negligible product losses

Filter Element

Multiple adaptor options for installation into sanitary housings
Repeated sanitization/ sterilization capability for economical operation
Individually serialized for full traceability

 
Quality
Cartridges produced in a controlled environment
Manufactured according to ISO 9001:2000 certified Quality Management System
Food Contact Compliance
Please refer to the Pall website www.pall.com/foodandbev for a Declaration of Compliance to specific National Legislation and/or Regional Regulatory requirements for food contact use.
Materials of Construction
 
Component
Description
Filter Medium
Resin bonded liquid crystal fibers on a cellulose substrate
Support / Drainage, Side Seal Clip, Core, End Cap and Fin End, Cage
Polypropylene
Adaptor
Polypropylene with internal stainless steel reinforcing ring
O-ring seal
Silicone elastomer (S)
 
Technical Information
Liquid Removal Rating1
Liquid removal rating: 0.8 micron @ 99.98% Efficiency (β5000)
Operating Characteristics in Compatible Fluids2
 
Maximum Differential Pressure
Operating Temperature
5.5 bard (80 psid) (forward)
50 °C (122 °F)
4.1 bard (60 psid) (forward)
80 °C (176 °F)
500 mbard (7 psid) (reverse)
20 °C (68 °F)
 
Sterilization and Sanitization
 
Media
Temperature
Cumulative Time3
Steam
121 °C (250 °F)
25 hours
Hot Water
90 °C (194 °F)
50 hours
Peroxyacetic acid based sanitizer (300 ppm total peroxides)
20 °C (68 °F)
50 hours
 
Typical Flow Rates4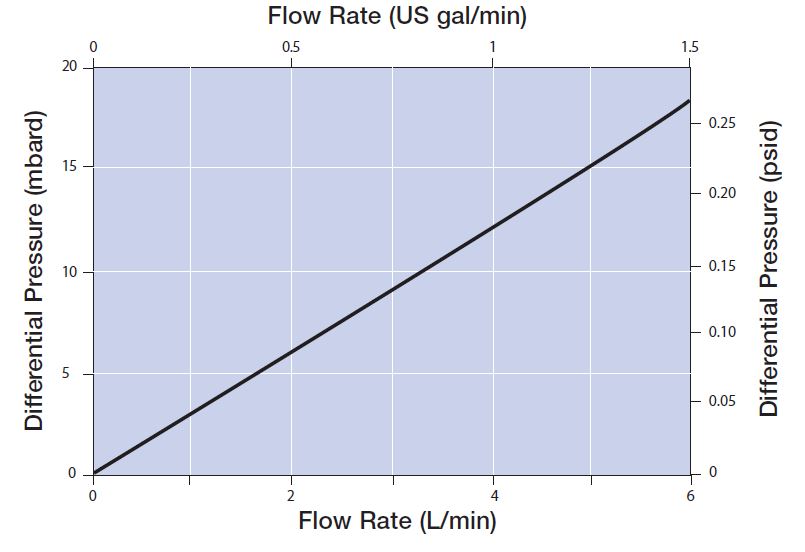 This is a guide to the Part Numbering structure only. For specific options, please contact Pall.
Cartridge Part Number: 469 A080 W [Table1] [Table2] SP
Table 1: Adaptor
 
Code
Description
3
SOE – single open end with flat closed end and external 222 O-rings
7
SOE – single open end with fin end, 2 locking tabs and external 226 O-rings
41
SOE – single open end with fin end, 3 locking tabs and external 222 O-rings
 
Table 2: Nominal Length
 
Code
Description
1
254 mm (10")
2
508 mm (20")
3
762 mm (30")
4
1016 mm (40")
 
1The MICROsorp OC Filter Cartridge liquid retention rating is based on modified OSU-F2 test.
2 Compatible fluids are defined as those which do not swell, soften or attack any of the filter components.
3 Measured under laboratory test conditions. The actual cumulative time depends on the process conditions. Pall recommends the use of Code 7 adaptors to ensure filter sealing after cooling. Cartridges should be cooled to system operating temperature prior to use. Contact Pall for recommended procedures.
4 Typical initial clean media ΔP 254 mm (10") cartridge for water at 20 °C (68 °F); viscosity 1 centipoise. For 508 mm, 762 mm and 1016 mm configurations divide the differential pressure by 2, 3, and 4 respectively.