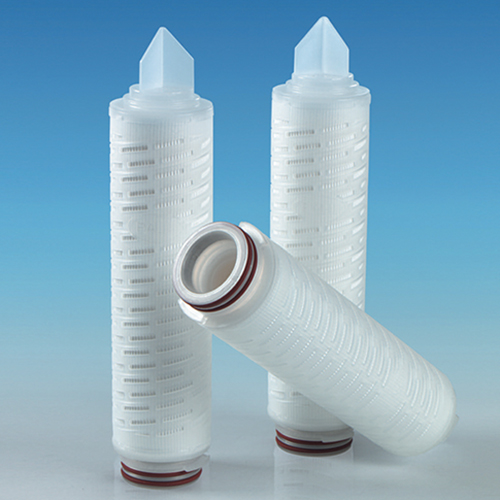 Unit of Measure
1/EA
Min Order Qty
1
Membrane Material
Double Layer PTFE
Effective Filtration Area (Metric cm²)
8400 cm²
Filter Cartridge Style
Code 7
Cartridge Length (Imperial)
10 in
Cartridge Length (Metric)
254 mm
See All Attributes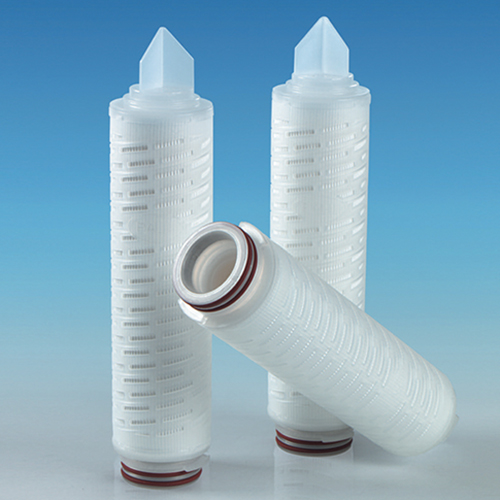 Unit of Measure
1/EA
Min Order Qty
1
Membrane Material
Double Layer PTFE
Effective Filtration Area (Metric cm²)
25200 cm²
Filter Cartridge Style
Code 7
Cartridge Length (Imperial)
30 in
Cartridge Length (Metric)
762 mm
See All Attributes
Emflon HTPFRW cartridges are sterilizing grade hydrophobic membrane filters designed for reliable retention of bacteria and high levels of phages in compressed gas and vent applications.
Emflon HTPFRW cartridges are specifically designed for critical, high temperature sterile filtration of compressed air and gas and hot fluid tank venting applications. They can also be considered for use in oxygen-enriched air applications.
1
In the food and ingredient industry, high temperature applications include fermentation inlet and exhaust air and aseptic packaging/ blow-fill-seal. Oxygen enrichment of air is used in fermenter or bioreactor applications where improved aeration enables higher product yields.
The filters feature Pall's advanced 0.2 micron rated polytetrafluoroethylene (PTFE) double layer membranes, pleated with very high area into single open-end cartridges. The polypropylene hardware is specially formulated with oxidation-resistant materials, and the filters' support and drainage layers are made of polyphenylene sulphide polymer for oxidation protection.
 
Features
Benefits
Inherently hydrophobic 100% PTFE membranes
Prevents wetting out in humid conditions or repeated steaming cycles, ensuring unrestricted gas throughput
High area pleated, robust double-layer membranes
Economical installations due to high throughputs and low pressure drops
Excellent resistance to mechanical damage
Oxidation-resistant materials of construction
Long service life in hot air and vent applications, also suitable for oxygen-enriched air applications1
Multi-cycle in situ steam challenged in forward and reverse direction
Enhanced steaming resistance
Validated for 0.2 micron bacteria removal in liquid and aerosol challenge tests
Sterile effluent even in humid conditions, resulting in improved fermentation yields and reliable protection from contamination
Aerosol bacteriophage challenged
Superior bacteriophage protection of microbial cultures
Water Intrusion testable (WIT)
Enables in situ user integrity testing with water
Part and serial number laser etched and encoded in 2D matrix
Filter identifying information can be scanned with a 2D matrix code reader to complement the use of a Palltronic® Flowstar integrity test instrument
100% integrity tested prior to dispatch; individually serialized modules
Documented quality; full traceability to materials and production records
 
1 Please refer to Application Note USTR2311a for important guidelines regarding use in oxygen and oxygen-enriched air. The user must perform a suitable risk assessment regarding such applications.
Materials of Construction
Component
Description
Filter Medium
Double-layer PTFE
Support / Drainage
Polyphenylene Sulphide
Cage
Polypropylene with Silica / TiO2 filler
Core, Fin End, End Cap
Polypropylene
Adaptor
Polypropylene with internal stainless steel reinforcing ring
O-ring Seal
Silicone Elastomer Ethylene Propylene Rubber
Technical Information
The technical information provided is based on controlled laboratory tests done on typical production filters at the conditions described, unless otherwise indicated. Actual operating conditions may affect the filter's performance.
Nominal Filter Area
0.84 m 2 (9.04 ft
2
) per 254 mm (10") module
Operating Characteristics in Compatible Gases2
Maximum Differential Pressure
Operating Temperature
3.4 bard (49.3 psid) (forward)
≤ 90 °C (194 ºF)
5.4 bard (78.3 psid) (forward)
≤ 40 °C (104 ºF)
3 bard (43.5 psid) (reverse)
≤ 40 °C (104 ºF)
2 Air, nitrogen, or other compatible gases. For differential pressure and temperature limits in applications with oxygen-enriched air please refer to Application Note USTR2311a or contact Pall.
Typical Service Life in Continuous Air Service
Maximum Temperature2, 3
Service Life
100 °C (212 °F)
1 year
110 °C (230 °F)
6 months
120 °C (248 °F)
2 months
3 For continuous gas flow under 60 ºC (140 ºF) in critical applications, Emflon PFRW filters are recommended.
Autoclave and Steaming4
Cumulative Steaming Time
Operating Temperature
100 1-hour cycles (forward) (all sizes)
142 °C (288 °F)
150 1⁄2 hour cycles (forward) (AB1, AB2, AB3 styles)
142 °C (288 °F)
Maximum Steaming Conditions
Steaming Temperature
1.0 bard (15 psid) (forward)
125 °C (257 °F)
0.3 bard (4.3 psid) (forward)
142 °C (287 °F)
0.5 bard (7.3 psid) (reverse)
125 °C (257 °F)
4 For applications requiring autoclaving and sterlization, Pall recommends the use of Code 2 or Code 7 adaptors to ensure filter sealing after cooling. Cartridges should be cooled to system operating temperature prior to use. Data shown for forward steam flow also indicates autoclave resistance.
Removal Ratings
Fluid
Performance6
Liquids
0.2 μm, sterile effluent7
Gases
0.003 micron particles in dry gas, aerosol removal of bacteria8, bacteria spores8, bacteriophage9. Also tested in accordance with ISO 8573-4 and test method ISO 12500-3:200910.
6 For further specific information, please request Pall's Technical Performance Document for this filter.
7 Liquid challenged with Brevundimonas diminuta at >107 cfu/cm2 effective filtration area according to ASTM 838-05. Provides sterile effluent according to FDA Guidelines (2004).
8 Aerosol challenged with Brevundimonas diminuta and Bacillus subtilis spores.
9 Aerosol challenged with MS2 bacteriophage.
10 For further details, please contact Pall.
Typical Flow Rates5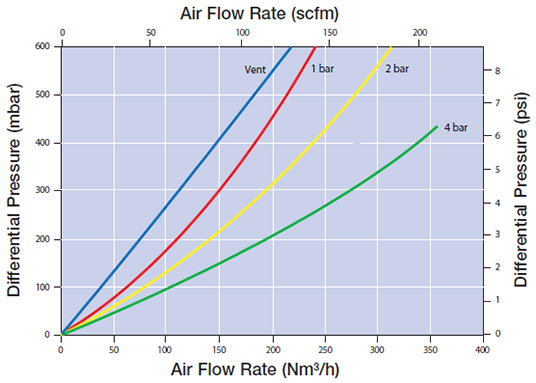 Typical clean delta p per 127 mm (5 inch) cartridge, air at 20 °C (68 °F), with housing losses subtracted.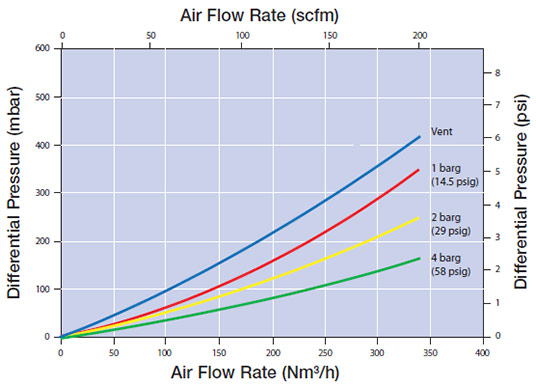 Typical clean delta p per 254 mm (10 inch) cartridge, air at 20 °C (68 °F), with housing losses subtracted.
5 For gases other than air and for multi-round cartridge installations, please contact Pall for proper sizing. Note that for sizing in oxygen-enriched applications, recommendations for sizing are described in USTR2311a and should be followed.
This information is a guide to the part number structure and possible options. For availability of specific options and housing details, please contact Pall.
Part Number: AB
[Table 1]
HTPFR
[Table 2]
W
[Table 3]
Example Part Number:
AB1HTPFR7WH4
See bold reference code in tables.
Table 1: Nominal Length
Code
Length
05
127 mm (5")
1
254 mm (10")
2
508 mm (20")
3
762 mm (30")
Table 2: Adaptor
Code
Description
211
SOE – single open end with flat closed end, 2 locking tabs and external 226 O-rings
7
SOE – single open end with fin end, 2 locking tabs and external 226 O-rings
11 AB05 configuration only
Table 3: O-ring Seal Material
Code
Description
H4
Silicone Elastomer
J
Ethylene Propylene Rubber