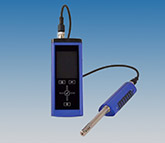 Need Help?

More Information

Description
For measurement of water content in oil
The Pall WS19 Series portable water sensor is an ideal, low-cost method for measuring dissolved water content in hydraulic, lubricating and insulating oils.
Specifically designed for use in industrial environments, readings are shown on an LCD display and can be used as a key component in the predictive maintenance of plant and machinery.
Features
A sensing probe directly immersed in the fluid to monitor dissolved water content and temperature
Water content output in % saturation or PPM
Temperature in °C or °F
'Plug and play' connectivity
Data logging
Multiple oil constants for PPM conversion
Simple to operate and calibrate
Robust housing and sensing probe designs.
Simple use
Specifically designed for industrial environments the WS19 Water Sensor features a color LCD touch screen for simple on-site adjustment and calibration, and interchangeable sensor options.