Description
Coralon® anti-static filters represent a significant advancement in equipment protection and are a direct replacement for Pall Ultipor® filter elements. The filters feature SRT (stress-resistant technology) media in a static charge resistant pack design for unsurpassed performance and value.
Coralon anti-static elements provide:
Beta x(c) > 1000 particle removal efficiency
Greatly reduced static charge build-up
Low element pressure drop
Optimum performance under cyclic flow and pressure conditions
Consistent, high performance equipment protection at all stages of filter life
Coralon Anti-Static Filter Technology
Designing filter elements has traditionally been a question of balance. Make a filter finer and more efficient and you have to sacrifice clean pressure drop and/or service life. Today, with the higher flow rates being put through filter elements, static charging/discharging has become more prevalent and can lead to significant operational problems.
Coralon anti-static filter elements provide consistent, high particle capture efficiency, low pressure drop and high dirt holding capacity coupled with the added benefit of significantly reducing static charge generation.
Filter Media Charging Measurements
Average charge generation in turbine lube oil (currant, nA)
Sample description
No heat exposure
After 149

°

C (300

°

F) for 1 hour
Standard glass fiber
material
620 ± 100
1,200 ± 200
Surface modified
standard glass fiber
material
250 ± 40
490 ± 70
Coralon Anti-Static
material
80 ± 20
80 ± 20
Electrostatic Charging
Electrostatic charging can be a problem in hydraulic and lube systems (Varnish formation)
Grounding housings and pipes does not reduce the charge generated
Standard glass and paper media can create electrostatic charging
Anti-static filters substantially reduce charging and its impact on systems (noise, sparking, and component and filter damage)
Problem System
Result from Using Anti-Static Element
Power plant lube system-clicking noise
Eliminated noise and burn marks and reduced charging by ~98%
Power plant varnish formation
Maintained varnish potential levels
Specifications
Element Collapse
Pressure Rating:
10 bard (150 psid) minimum for Coreless filter elements (polymer end caps)
20 bard (300 psid) minimum for standard filter elements (metal end caps and core)
Temperature Range:
Fluorocarbon:

-29°C (-20°F) to +120°C (+250°F)
Nitrile:
-43°C (-45°F) to +120°C (+250°F)
Note:
Maximum 60°C (140°F) in water based fluids
Seals:
Fluorocarbon or nitrile
Fluid Compatibility:
Compatible with petroleum oils, water glycols, water-oil emulsions, and high water containing fluids.
Filter Construction:
Cored filter elements - Corrosion protected end caps and core
Coreless filter elements - Polymer end caps only
Filter Element medium:
Inorganic fibers impregnated and bonded with epoxy resins.
All Coralon filter elements are manufactured by Pall to exacting procedures and strict quality controls. Elements are validated to the following ISO test protocols:
Filter Ratings:
- Cyclic Stabilization Test (80% Δp ) based on SAE ARP4205. For ISO Code ratings, see Table 1
- ßx(c)≥1000 multi-pass filter ratings (per ISO 16889)
Element Collapse Pressure Rating (ISO 2941)
Fluid Compatibility (ISO 2943)
Flow vs. Pressure Drop (ISO 3968)
Flow Fatigue (ISO 3724)
Fabrication Integrity (ISO 2942)
For further information on test protocols and certification, please contact Pall sales.
Performance
Measuring Filter Performance - the Cyclic Stabilization Test (based on SAE ARP4205):
Conditions such as varying flow, cold starts, shock and vibration can potentially reduce the effectiveness of a filter in an operating system.
The Cyclic Stabilization Test examines the effects of cyclic flow conditions and dirt loading on the capture and retention characteristics of the filter. The result is an improved filter performance reporting method that simply tells the user via ISO Codes (see Table 1) the level of contamination control that can be maintained throughout the filter's service life.
Table 1 - Filter Performance Ratings
Coralon Filter Grade 
ßx(c) ≥ 1000
per ISO 16889 
ISO Code Rating per Stress-Resistance Test (80% Δp )*
AP
5
12/09/07
AN
7
14/11/06
AS
12
15/11/06
AT
22
16/14/08
* based on 60 psid terminal pressure drop
The Coralon Filter Performance Advantage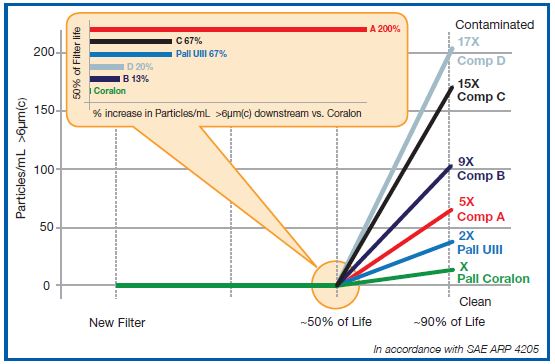 A critical measure of a filter's performance is its ability to sustain fluid cleanliness throughout its service life.
This graph compares a Coralon 7μm(c) rated filter to an Ultipor III filter and four competitors' products with equivalent ratings.
Only Coralon filters produce sustained fluid cleanliness over the full life of the filter.