The Pall PCM200 Fluid Cleanliness Monitoring Device offers cost-effectiveness and provides accurate, reliable assessment of system fluid cleanliness.
Proven filter/mesh blockage technology (ISO 21018 Pt.3)
Performance is not affected by water, air or opaque fluids
Monitors dissolved water content as % saturation or ppm for specific fluids (PCM200W only)
On-Line (low pressure, < 2 bar/29 psi) or off-line analysis
Continuous monitoring capability
Stores up to 500 test results
Viscosity output in centistokes (cSt)
Remote control and data acquisition via PC, PLC or optional hand-held display
PC-based trending software included
Benefits
As part of continued component cleanliness 'pass off' checks or predictive maintenance programs, the PCM200 Fluid Cleanliness Monitoring Device reports test data in real-time, so that ongoing assessments can be made.
Early detection of abnormal fluid cleanliness allows for timely investigation and corrective actions to be implemented. The PCM200 Fluid Cleanliness Monitor can be permanently installed on critical applications (including component test facilities) or used as a portable device for routine
condition monitoring
of various fluid systems.
The PCM200 Fluid Cleanliness Monitor has been designed for operators who require a cost effective, simple to use, low-pressure monitor. It can also be laboratory based or integrated into OEM equipment.
A key benefit of PCM cleanliness monitors is that they can be used on fluids that are not suitable for use with traditional Automatic Particle Counters; results are not affected by water, air or opaque fluids.
Features
The front facia user interface contains 4 LEDs (indicating power, standby/testing, sampling and hardware issues) and 2 buttons (on/off and test start). There are also two RS232 communication ports for 'hand-held' display or PC connection, or for PLC interface using an integrated protocol.
An optional 'hand-held' display allows simple menu driven inputs for sample identification, monitor configuration and data output in ISO4406, SAE AS4059 Table 1 (previously NAS1638) or SAE AS4059 Table 2 formats.
The display shows real-time data and test results, which are automatically stored for trending and evaluation. Data can also be displayed on a remote PC or PLC using simple ASCI II commands.
Hand-held display (Optional)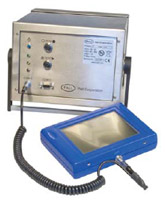 Power supply:
90 to 264 V AC Single Phase
47 - 63 Hz Auto Ranging
IEC Mains Socket

18 to 24 V DC (60 W)
XLR Socket
Fuse:
2 Amp
Compatibility:
Water glycols, aqueous solutions, Petroleum and synthetic oils (hydraulic lubricating, dielectric, etc.) fuels, industrial phosphate esters.
Seals:
Fluorocarbon
Fluid Cleanliness
Monitoring Range:
ISO 4406: -/9/7 to -/21/17
SAE AS 4059 Table 1
Class 1 to 10 (derived from NAS 1638)

SAE AS 4059 Table 2
Class

> 6 μm 1B to 10B
> 14 μm 1C to 10C

Fluid Water Content
Monitoring Range:
0 to 100 % Saturation
ppm output (PCM200W only)
Operating Pressure:
0 to 2 bar (29 psi) max
Temperature:
5 °C to 80 °C (41 °F to 176 °F)
Viscosity Range:
1.5 cSt to 450 cSt 30 to 2,200 SUS)
Output:
2 x RS232
Enclosure:
IP65 (NEMA 4)
Weight:
9 kg (20 lb)
Dimensions with Mounting Bracket:
H 178 x W 282 x D 265 mm
(H 7 x W 11.1 x D 10.4 inches)
Dimensions with Handle:
H 164 x W 262 x D 330 mm
(H 6.6 x W 10.3 x D 13 inches)
PCM Fluid Cleanliness Trender software supplied with the PCM200 features:

Graphical and spreadsheet reporting
Trending capabilities
Printable reports
Component wash fluids
Cutting fluids
Aqueous solutions
Coolants
Water glycols
Mineral and synthetic oils
Hydraulic and lubricating fluids
Fuels
Diagnostic and Monitoring Equipment
Filtration, Polishing, Prefiltration, Removal
PCM200
[1] [2] [3] [4]
This is a guide to the Part Numbering structure only, for specific options, please contact Pall.
Table 1: Water Sensor
Code
Description
None
No Water Sensor Fitted
W
Water Sensor Fitted
Table 2: Mounting Option
Code
Description
None
No Mounting Bracket (Handle)
B
Mounted Brackets Fitted (No Handle)
Table 3: Mains Lead
Code
Description
A
UK Power Lead
B
European Power Lead
C
USA Power Lead
D
Australian Power Lead
E
Japanese Power Lead
Table 4: Language
Code
Description
DE
German
EN
English
ES
Spanish
FR
French
IT
Italian
Printer Kit and Accessories PCM200-PRT
Optional Display PCM200-DISP
Optional Transit Case PCM200-CASE