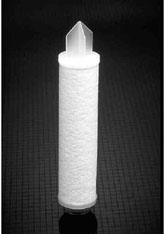 Need Help?

More Information

Description
Rated at >99.9% efficiency1 with retention ratings from 0.5 to 120 µm
Proprietary CoLD Melt™ fiber technology
Resists contaminant unloading even at high differential pressures
Micro-denier melt blown filtration fibers
Media manufactured with a continuous gradient pore structure
All-polypropylene construction
Free of adhesives, binders, resins, and silicone
Proprietary center core for added strength (0.5 - 20 µm)
Fast rinse-up to 18 Megohm-cm
Certification of conformance including lot identification
For detailed information about this product, please refer to the data sheet. (To download this data sheet, select Download PDF from the menu above.)
Products in this datasheet may be covered by one or more patents, including EP 830,191; US 5,591,335; US 5,653,833; US 5,681,469; US 5,690,782; US 5,730,820; US 5,733,581; US 5,741,395; US 5,783,011.
Use
Filtration, Polishing, Prefiltration, Removal, Clarification, Classification
Application
Midstream Process Water, Mining Equipment Gear Case, Mining Equipment Hydraulic Fluid, Mining Euqipment Lube Oil - on & off board, Mining Final Product (Post Smelt/Burn off Impurities), Mining Final Product (Slurry), Mining Wastewater, Municiple Mining Water [Rinsing] , Coolants / Bearing Lubrication, Drives Gear Box + Roll Housing, Forging / Extrusion, Gear Box / Bearing, Gear Box / Morgoil, Material Directional Control, Material Handling, Non Contact, Quenching / Cleaning, Roll Bite (Safety Filter), Shape + Material Handling, Pulp&Paper Bleach Chemical Prep, Pulp&Paper LOH, Pulp&Paper Machine Process Application, Pulp&Paper Paper Coating, Pulp&Paper Pulp Screening, Auto Painting/Coating Zinc Phosphate Bath, Medium & Light Hydraulic, Medium & Light Lubrication, Midstream Process Water
Segment
General Industrial
Mining
Primary Metals
Pulp & Paper