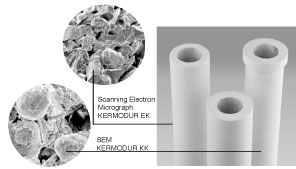 Need Help?

More Information

Description
Kermodur is a porous filter ceramic composed of corundum grains (a-Al2O3) sintered by a alumosiliceous bond. Main component of Kermodur EK are splintery, dense electro-corundum grains that build a fine filtering ceramic structure with very narrow pore size distribution. Kermodur KK is composed of hollow-spheres corundum grains.
The special feature of this filter media is its highly porous structure with its large internal surface area. Therefore it is suitable especially for depth filtration applications. Kermodur filter elements are successfully used for the filtration of gases. They are appropriate for depth filtration as well as for surface filtration whenever low contaminations have to be separated accurately.
Kermodur filter ceramic can be utilised in the food and beverage industry in  accordance with the German Foodstuffs and Consumer Goods Act and according to the European Directive 89/109/EEC – referring to directives 2002/72/EC and / or 84/500/EEC and their amendments, as appropriate.
Machining is possible using diamond-tipped tools.
Ceramic elements are to be handled with care.
Elements can be easily glued using commercial glues which we can supply. Consideration must be paid to operating temperature and chemical resistance.
A a variety of element fixing systems are available.
A periodic cleaning of elements can be advantageous for various applications. Please ask for our cleaning instructions.