Expanding the range of PCM500 fluid cleanliness monitors, the PCM500 X357 measures the cleanliness of system fluids with viscosities between 0.5 and 40 cSt. This enables accurate cleanliness results to be gathered from traditionally difficult to monitor fluids.
The low viscosity fluid cleanliness monitor is ideal for Fluid applications, including:
Machine coolant fluid
Deionised water
Automatic transmission fluids
Machinery and equipment test fluids
Operation
The color LCD touch screen allows simple menu-driven input of sample identification, monitor configuration, and data output.
The HD screen displays real-time data and test results which are automatically stored for subsequent trending and evaluation. An optional Bluetooth connected printer allows the operator to produce a hard copy of the test results if required.
All ancillary components for high and low-pressure on-line sample monitoring are contained within the unit, with sufficient internal power to complete up to 35 tests between charges. (AC power can be used if preferred).
For further protection and ease of transport, the PCM500 is supplied in a robust flight case.
Power supply:
90-260 VAC or integral
12 VDC Lithium Ion battery
Battery life:
Typically 35 samples
Temperature
Range:
10°C to 80°C (50°F to 176°F)
(dependent on fluid type)
Compatibility:
Water glycols, aqueous solutions.
Petroleum and synthetic oils
(hydraulic lubricating, dielectric, etc.)
fuels, industrial phosphate esters, DI water
Seals:
Nitrile
Operating viscosity:
0.5 to 40 cSt (29.5 to 185.3 SUS)
Pressure:
0 to 200 bar (2902 psi) max
Monitoring Range:
ISO 4406: <11/9/7 to 23/21/17
SAE AS 4059 Table 1
Class 1 to 12 (derived from NAS 1638)
SAE AS 4059 Table 2
>4 µm 1A to 12A, >6 µm 1B to
12B >14 µm 1C to 12C
Accuracy:
± 1/2 ISO 4406 Code
Communication Ports:
3 x USB's (Data Acquisition, PC
Setup, Printer), Ethernet and RS232C (PLC Control)
Enclosure:
IP 65 (NEMA 4)
Weight:
11 kg (24 lb)
Dimensions:
400 x 260 x 250 mm
(15.8 x 10.2 x 10 inches)
| | |
| --- | --- |
| Real time data is displayed during test to show progress | Multiple test data can be stored and displayed for subsequent analysis and download |
Diagnostic and Monitoring Equipment
Please select from the following part number options only.
 
PCM500
M
A
X357
PCM500
M
B
X357
PCM500
M
D
X357
PCM500
U
B
X357
PCM500
U
C
X357
 
Table 1: Fitting Type
 
Code
Description
M
1⁄4" in. BSPP Female Swivel fitting to metric test point
U
1⁄4" in. NPT fitting and end cap
 
Table 2: Power Lead
 
Code
Description
A
UK Power Lead
B
European Power Lead
C
USA Power Lead
D
Australian Power Lead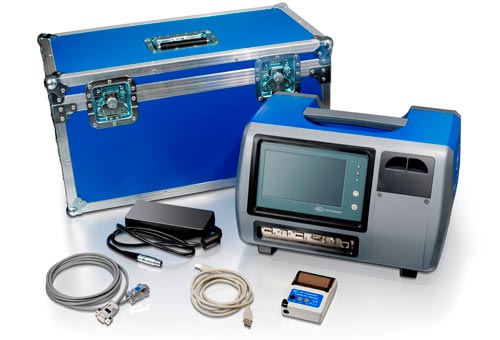 Printer Kit and Accessories
PCM500-PRT
For ordering and pricing information contact your local sales office or distributor Contact Us.