Component Cleanliness Cabinet
The Pall PCC81-KC Cleanliness Cabinet facilitates the accurate, reliable and repeatable preparation of gravimetric membranes for the determination of component cleanliness.
The PCC81-KC enables operators to access the cleanliness level of the manufactured parts and components in accordance to ISO18413, ISO16232 and VDA 19 procedures.
Features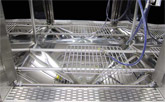 Large work area for large manufactured parts
Reliable and repeatable measurements
HEPA filtered laminar air flow in a self contained super polished stainless steel working area
Simple to install and operate
Fully portable requiring only a power source
Designed and built to ISO Pressure Washing standard 16232
Solvent dispensing gun with fluid volume dispensing counter
Pressurized solvent dispensing and recycling circuits
Gravimetric membrane holder
Auto Wall Wash function
PLC controlled operating parameters (option)
Auto lifting arm for large heavy parts (option)

Dimensions: 2100mm W x 1350mm D x 2520mm H
Power inputs: 220V 50 or 60 Hz, 1 or 3 phase
Working area: 1660mm W x 1060mm D x 950mm H
Air flow ISO14644-123 Class 5
Electric power consumption: 2.5 kW (7A)
Reservoir : 50 L with fluid level indicator
Spray rinsing flow rate: 2.5 L/min (adjustable)
Wall wash flow rate: 0-21 L/min (adjustable)
Spray rinse pressure: set 5 bar (adjustable)
Wall wash solvent filter rating 0.2 µm
Dry weight: about 900Kg
Membrane holder: 2 stages cascade, 47mm diameter.
Synthetic hydrocarbon washing fluids
Vacuum pump pressure: app. -0.87Bar
Technical Drawing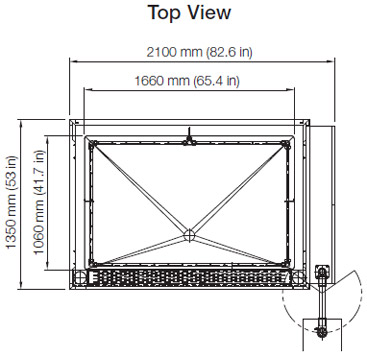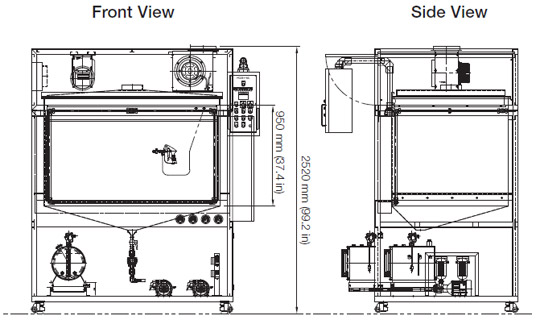 Diagnostic and Monitoring Equipment
Filtration, Polishing, Prefiltration, Removal
Component Cleanliness Cabinet
PCC81-KC
[1] [2] [3]
Table 1: Options
Code
Description
Omit
Standard
T5
Touch Screen PLC - 5" size
T7
Touch Screen PLC - 7" size
Table 2: Options
Code
Description
S
Shower Nozzle Line Addition
P
Air Purge and Shower Nozzle Line Addition
Table 3: Accessories
Code
Description
90
90kgf Auto Lift Arm
150
150kgf Auto Lift Arm
250
250kgf Auto Lift Arm
Other options available on application.