Pall's Liquid Liquid (LL) coalescer technology for 'direct replacement' of Parker (Peco♦, Racor♦ and Velcon♦), Filtration Group♦, Fuji♦, and Asco Filtri♦ LL coalescer filters.
Based on customer requests, Pall has incorporated its polymeric coalescer media into a 6" diameter element to enable users of other manufacturers glass fiber coalescer designs to benefit from Pall technology, without the need to replace the existing housing/vessel.
Pall retrofit products are direct replacements for existing competitor products, offering the performance and value you have come to expect from Pall.
Advantages of Pall Technology
When high efficiency liquid/liquid separation is needed for removal of liquid dispersed contamination, the proven AquaSep XS or AquaSep EL media is a must have.
Where glass fiber coalescer media typically begin to lose efficiency in the presence of surfactants and where IFT (InterFacial Tension) is below 20 dynes/cm, the Pall medium will provide consistent performance and will not disarm for the full service life of the coalescer element.
Both AquaSep XS and AquaSep EL options are high-efficiency, polymeric media making them well suited for numerous liquid/liquid separation applications.
Product Benefits
The high performance polymeric media lead to reduced incidents of off spec products to avoid reprocessing or sedimentation efforts,and help prevent corrosion and catalytic deactivation in downstream equipment.
The Pall media is non disarming by surfactants that coat the coalescer surface. Consistent fluid quality is provided through the full life of the coalescer element and change out costs of disarmed glass fiber is then reduced.
The ability to separate emulsions with IFT lower than 20 dynes/cm is a safety parameter for challenging applications and process variations.
Applications
Removal of water from refined products with or without additive package, including gasoline, diesel, jet fuel, and LPG
Separation of water from hydrocarbon condensates, hydrotreaters, refinery intermediates, naphtha, propane, and propylene
Removal of water from aromatics
Separation of oil from water
Available in 2 types of polymeric media:
AquaSep XS for finer emulsions with IFTs lower than 20 dynes/cm
AquaSep EL for coarser emulsions, or when pre-filtration is not in place
Both XS and EL type media are compatible with hydrocarbon fuels, trace amounts of IPA and methanol, and water in the pH range of 4 - 8.5. For compatibility information with a specific chemical, please contact your Pall representative or distributor.
Maximum operating temperature
60 °C / 140 °F
Maximum differential pressure
3.4 bard / 50 psid at 21 °C / 70 °F
Seal Material
Fluoropolymer
Recommended change-out:
1.0 bard / 15 psid at 21 °C / 70 °F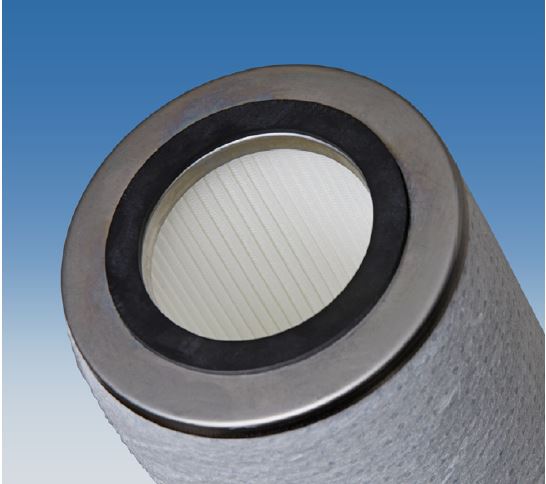 Pall Quality Assurance
Pall-Fit coalescers are manufactured at Pall sites that are ISO9001 certified. They are traceable back to manufacturing lots by date code printed on the bag label.
Part Number and Ordering Information
Pall 6" diameter coalescer retrofits are available to replace the following suppliers products. Please contact your Pall representative if your don't find the 6" Liquid/liquid coalescer reference you use listed below:
Supplier
Series
Filter Element Reference
Parker - Peco
InterPhase* CPF
CR38K, CR43K, CR44K, CR58K
CB38K, CB43K, CB44K, CB58K
CC38K, CC43K, CC44K, CC58K
XtremePhase*
XLPC-C fiber glass in 44" and 56"
XLPC-IPC fiber glass with pleat pack in 44" and 56"
XLPC-PLPC Polyester in 44" and 56"
Parker - Racor
HCP
HCP-436 in various ratings, HCP-456 in various ratings
RAC
RAC-638, RAC-643, RAC-656
Parker - Velcon
I-Series
I-638, I-644, I-656 Series
Filtration Group - Jonell*
PhasePUR*
JC644, JCP656 Series
Filtration Group - Facet*
Marine CA, CB, CC
CA38, CA43 & CA56 Series in models 3, 8 and 9
CB43, CB56, CC43 & CC56 Superflex Series
Asco Filtri
CC
CC-G656 Series
*Peco, Racor, Velcon, Interphase, and XtreamPhase are trademarks of Parker Hannifin Corporation; Filtration Group, Jonell, and Facet are trademarks of Filtration Group Corporation; Fuji is a trademark of Fuji Filter Manufacturing Co., Ltd.; and Asco Filtri is a trademark of Asco Filtri S.P.A.
The following Pall retrofit coalescer element and associated separator options are available.
Pall Retrofit Coalescer Part Number
Length (cm / in)
Medium
LCS656PXSHDOE
142.2 / 56
XS
LCS656ELBH13DOE
142.2 / 56
EL
LCS644PXSHDOE
111.8 / 44
XS
LCS644ELBH13DOE
111.8 / 44
EL
LCS643PXSHDOE
109.2 / 43
XS
LCS643ELBH13DOE
109.2 / 43
EL
LCS638PXSHDOE
96.5 / 38
XS
LCS638ELBH13DOE
96.5 / 38
EL
Separator
Length (cm / in)
LSS643F2H
109.2 / 43
LSS636F2H
91.4 / 36
LSS633F2H
83.8 / 33
LSS629F2H
73.7 / 29