With quality assured manufacturing and defined lot-to-lot consistency, our Vivid Lateral Flow Nitrocellulose offers a reliable media for development, manufacturing and implementation of lateral flow diagnostic point of care tests.
Membrane consistency for assay reproducibility and sensitivity
Increased sensitivity

Vivid Lateral Flow Nitrocellulose (LFNC) membranes provide high sensitivity with dilute concentrations of target analytes.

Strong consistency and high duplication rate

When measuring intra- and inter-lot performance for wicking time and thickness Vivid LFNC membranes provide consistent results, resulting in low defined coefficients of variation.

Consistent reproducibility

Provides protein binding levels which are highly consistent to facilitate reliable assay performance.

Clear results

Demonstrates low background levels which enable crisp capture lines and easy-to-read results.

Dependable performance

Constructed using pure nitrocellulose that does not contain interfering substances or post-treatments that affect assay performance.

Clear surface appearance

Controlled surface quality of the membrane ensures freedom from visual defects, discolouration and dust.

Result timing

Quality assured wicking speed gives predictable result time.
Nitrocellulose membranes are the heart of lateral flow assays and require highly consistent wicking rate and thickness. Variations in either can have detrimental effects on assay sensitivity, reproducibility, and reagent consumption.
Vivid LFNC membranes are manufactured to ensure that these key parameters are tightly controlled with coefficients of variation (CV) between 5 and 10%.
Nitrocellulose is the globally preferred membrane substrate in diagnostic tests where antigenantibody binding occurs, e.g., pregnancy tests, urine-albumin tests and C-reactive protein (CRP) detection. Pall's Vivid LFNC membranes fulfil all the criteria to enable the development and manufacture of a diverse range of tests with reliability and reproducibility, available with the following benefits:
Quality: designed and tested specifically for diagnosticapplications to ensure the materials meet stringent requirements for diagnostic assay development and manufacturing
Reliable, large-scale manufacturing capacity with lot to lot traceability
Reproducibility: defined coefficients of variation for key performance parameters result in consistent performance
Choice of defined capillary speeds to select sensitivity of diagnostic test
Straight and uniform migration front
Membrane
Thickness
Wicking Rate (s / 4 cm)
Vivid 90
LFNC
190 – 230 μm includes 95 – 105 μm polyester support
70 - 110
Vivid 120
LFNC
190 - 230 μm includes 95 – 105 μm polyester support
95 - 135
Thickness
The thickness of the reaction membrane has a direct impact on its signal generation. Consequently, any variations both intra- or inter-lot will have an impact on Point of Care Test (POCT) device manufacturing and the final assay performance.
In the data drawn from 3 lots, measuring the thickness of the membrane every 2.5 cm down a sample piece of material, the coefficient of variation was measured as ≤4.6% for Vivid 120 LFNC membrane with average thickness for all sample points being 196.7 ± 8.1 μm (Graph 1) and for Vivid 90 LFNC membrane the coefficient of variation was ≤2.6% with average thickness for all sample points being 217.1 ±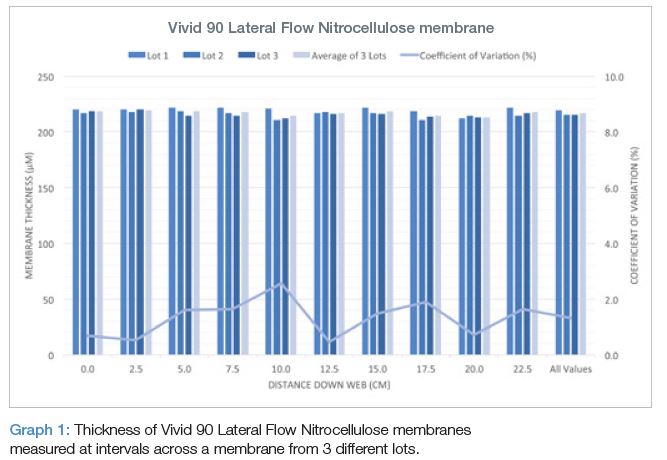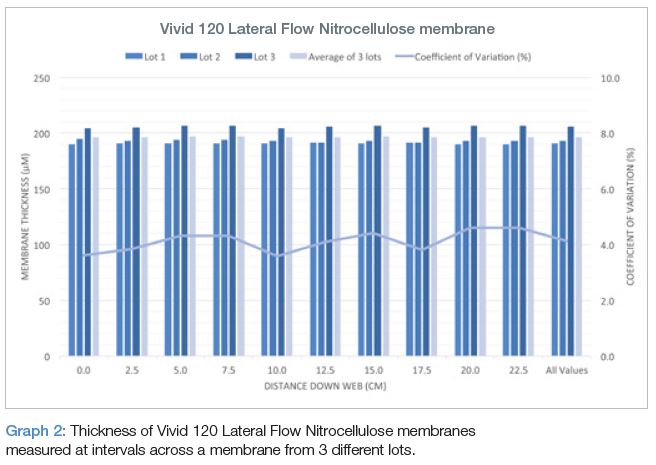 Capillary Speed/Wicking
Assay sensitivity is maintained with consistency of the wicking rate of the nitrocellulose membrane. By maintaining a uniform sample front that travels along the membrane at a consistent speed, the target analyte is maintained in a homogenous concentration. This ensures that the target analyte present in the sample has adequate time to bind to the capture antibody resulting in reproducible results from lot to lot. The wicking rate of the Vivid 90 and Vivid 120 LFNC membranes both exhibit CV's for intra- and inter-lot consistency of ≤ 10% (Table 2 and 3).
Membrane
Inter-lot Wicking Rate (s / 4 cm)
Average (s / 4 cm)
Standard Deviation
Coefficient of Variation
Lot 1
Lot 2
Lot 3
Vivid 90 LFNC
83.7
79.3
87.3
83.4
6.1
7.3%
Vivid 120 LFNC
130.7
117.3
117.7
121.9
7.8
6.4%
Table 2: Summary data of intrer-lot reproducibility (from three sample points) of capillary speed and inter-lot reproducibility across three lots.
Membrane
Intra-lot Wicking Rate (s / 4 cm) Position on Sample Sheet
Average (s / 4 cm)
Standard Deviation
Coefficient of Variation
Left
Centre
Right
Vivid 90 LFNC
80.7
84.3
85.3
83.4
2.5
2.9%
Vivid 120 LFNC
117.7
123.0
125.0
121.9
3.8
3.1%
Table 3: Summary data of intra-lot reproducibility (from three sample points) of capillary speed and inter-lot reproducibility across three lots.
Scanning Electron Microscopy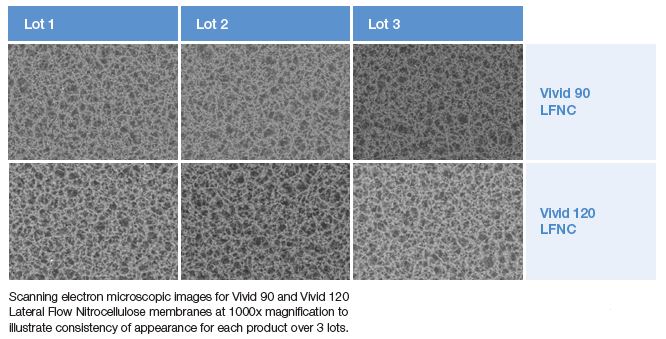 Accessories and Spare Parts
White Blood Cell Isolation (Leukosorb™) Medium.
Removal of white blood cells to prevent interference with PCR or molecular diagnostics.


Vivid Plasma Separation membrane.
Removal of cellular components (red cells, white cell, platelets) in less than two minutes resulting in a supernatant with similar qualities to centrifuged material.
Pall Corporation and Diagnostics
Pall Corporation is a global leader in high-tech filtration, separation, and purification, serving the diverse needs of customers across the broad spectrum of life sciences and industry. Pall works with customers to advance health, safety and environmentally responsible technologies. The Company's engineered products enable process and product innovation and minimize emissions and waste.
Our extensive portfolio of membrane and media products serve applications from diagnostics to venting, worker and equipment protection as well as Intravenous drug delivery.
Medical diagnostic teams need a reliable business partner with expertise in technology innovations and state of the art engineering. Pall executes manufacturing to ensure regulatory compliance and meet quality standards. Our diagnostic products are manufactured in accordance with ISO 9001.
Pall understands that the world of medical diagnostics gets more complicated every day. We know that you're counting on our team to provide you with quality products, so that you can provide your patients with insight and resolution.
Description
Wicking Rate (s / 4 cm)
Width
Length
Pkg
Part Number
Vivid 120 LFNC Sample
95 - 135
25 mm
300 mm
1 Strip
VIV120SAMP
Vivid 120 LFNC
95 - 135
25 mm
3 metres
1 Roll
VIV1202503R
Vivid 120 LFNC
95 - 135
25 mm
50 metres
1 Roll
VIV1202550R
Vivid 90 LFNC Sample
70 - 110
25 mm
300 mm
1 Strip
VIV90SAMP
Vivid 90 LFNC
70 - 110
25 mm
3 metres
1 Roll
VIV902503R
Vivid 90 LFNC
70 - 110
25 mm
50 metres
1 Roll
VIV902550R