The Acro® 50 Last Chance Filter (LCF) Assembly is designed for the filtration of color resist at the coater, to remove contamination generated by system components, such as pumps and valves.

The Acro 50 filter's sturdy construction allows for operating pressures, up to 0.2 MPa.

Its rigid housing design prevents internal volume expansion and contraction during pump cycles, resulting in consistent dispense volumes with no passive liquid flow after the pump has stopped.
Reproducible and accurate output volumes with excellent pump cycle response
Compact size
All polypropylene materials
High efficiency filter media
Excellent compatibility with LCD color resist chemicals
Very low hold-up volume minimizes fluid loss during filter change-out
Fast and easy filter change-out
High productivity with minimal yield problems
Materials
Medium: Polypropylene
Housing: Polypropylene
Removal Ratings
Filter Area
Connections: Inlet/Outlet
1⁄4 in. Compression seal (Swagelok1 or compatible)
Dimensions
Overall Length: 46.9 mm / 1.88 in.
Diameter: 73.6 mm / 2.94 in.
Operating Conditions
Maximum Operating Temperature: 80 °C
Maximum Operating Pressure:

0.24 MPa @ 20 °C
0.17 MPa @ 80 °C
Packaging
1Swagelok is a Registered trademark of Swagelock Co.
Pressure Drop vs. Liquid Flow Rate
Liquid: water at 1 mPa•s (cP)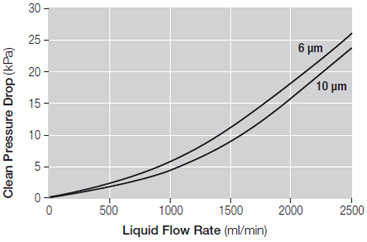 Liquid: Glycerin solution at 20 mPa•s (cP)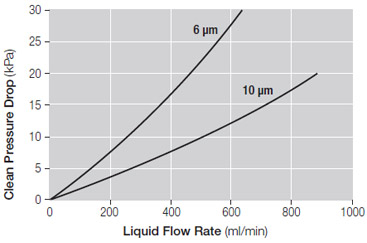 Part Number
Removal Rating (μm)
6004202
6
6004203
10

Specifications and availability: The information provided in this literature was reviewed for
accuracy at the time of publication.
Product availability may be subject to change without notice.
For current information, consult your local Pall distributor or contact Pall Corporation directly.