Pall purifier systems enable the removal of molecular contamination to sub-parts-per-billion (ppb) levels from a variety of gases used in the semiconductor, photovoltaic, LED and display industries. They are well suited for applications such as bulk delivery and gas bottle filling.
Flow rates up to 4,000 slpm (141 scfm)
Purifier assemblies contain integral particle filters
Isolation valves allow for easy replacement of individual assemblies
Custom configurations available to meet specific customer requirements
Products on this page may be covered by one or more patents, including US 7,465,692
 
Purifiable Gases and Removal Efficiency
See Table 1
Materials

All wetted surfaces are electropolished 316L stainless steel (except for the purification material)
≤ 0.25 μm / 10 μin Ra internal surface finish
Housings meet or exceed VIM / VAR specifications

Particle Removal Rating1

≥ 0.4 μm (3 nm particle filter assemblies Removal available as stand-alone units)

Housing Pressure Ratings

Standard pressure: 1.7 MPa (250 psig)
High pressure: 20.7 MPa (3,000 psig)

Configurations

Manifold contains 1 to 4 assemblies to accommodate flow rates up to 4,000 slpm (141 scfm)
Available with customer specific connections and components

Certifications

ASME: Vessel is designed and manufactured in accordance with the ASME BPVC Section III, Div 1 and is U-stamped
PED: Available for most categories of gases

Leak Rating

Assemblies are 100% helium leak tested to 1 x 10-9 atm-cm3/s

 
1 Particle rating is based on laboratory testing with NaCl aerosol.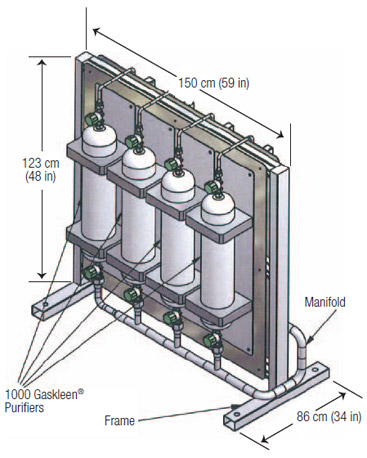 Table 1: List of Purifiable Gases
 
Gas
Purifier Material Code
Effluent Material Specification2
Nitrogen, argon, helium, xenon, krypton, neon
INP
<1 ppb H2O, O2, CO2 and CO
Silane, hydrogen, methane, ethane, cyclopropane, propane, dimethyl ether
SIP
<1 ppb H2O, O2, CO2 and CO
Carbon monoxide
SIP
<1 ppb H2O, O2, CO2, Ni(CO)4 and Fe(CO)5
Fluoromethane, diflouromethane, trifluoromethane, tetrafluoroethane, pentafluoroethane, heptafluoropropane, carbon tetrafluoride, perfluoropropane, perfluorocyclobutane, hexafluoroethane
FCP
<1 ppb H2O, O2, and CO2
Germane
GEH4P
<1 ppb H2O, O2, and CO2
Sulfur hexafluoride
SF6P
<1 ppb H2O, O2, and CO2
Air, carbon dioxide, oxygen, nitrous oxide
OXP
<10 ppb H2O
Boron trichloride, chlorine, trichlorosilane, dichlorosilane
CLXP
<100 ppb H2O
Hydrogen chloride
HCLP
<15 ppb H2O
Hydrogen bromide
HBRP
<50 ppb H2O
Photolithography clean dry air
CDAP
<1 ppb H2O,
<1 ppb organics (as C4),
<10 ppt acid gases (as SO2),
<15 ppt basic gases (as NH3),
<1 ppt refractory compounds (as HMDSO)
 
2 Gas specific data available upon request.