Gaskleen® II EL Purifier Assembly
Pall Gaskleen II EL purifier assemblies are designed to remove molecular contamination from many process gases. Sub-parts-per-billion (ppb) level purification is achieved for flow rates up to 30 slpm, with excursions up to 50 slpm1, while providing ≥ 3 nanometer (nm) particle removal.
Controls and removes impurities such as moisture, oxygen, carbon dioxide, non-methane hydrocarbons, metal carbonyls, and siloxanes
316L stainless steel housing
Wide variety of gases purified
100% helium leak and pressure tested
Not orientation sensitive
No detectable metal contribution above background in HCl gas with HCLP materia
No detectable metal contribution above background in HBr gas with HBRP material
Materials

Housing: electropolished 316L SS
≤ 0.25 μm / 10 uin Ra internal surface finish
Housing meets or exceeds VIM / VAR specifications

Particle Removal Efficiency Rating

109 reduction for particles ≥ 3 nm up to 50 slpm2

Connections

¼" Gasket Seal, Male / Male (VCR3 or compatible)

Operating Conditions

Maximum operating pressure : 6.9 MPa @ 100C/ 1,000 psig @ 212°F
Maximum operation temperature: 100°C /212

°

F (INP, SIP, FCP, SF6P) 40°C/ 104°F (GEH4P, OXP, CLXP, HCLP, HBRP, CDAP)
EU Pressure Equipment Directive: Assemblies comply with the European Union's Pressure Equipment Directive 2014/68/EU and are CE marked

Packaging

Double bagged
Aluminized outer bag, polyethylene inner bag
End fittings sealed with metal gaskets and caps
Product sealed in an argon environment
1Contact the Pall Microelectrnics group for further information.
2Particle rating based on laboratory testing with NaCl erosol.
3VCR is a trademark of Swagelok Co.
Technical Information
Impurity Removal as Tested in Specific Gases
Specific Gas
Impurity Removal Efficiency
Inert Gases: Nitrogen, Argon, Helium, Xenon, Krypton, Neon
< 1 ppb H2O, CO2, O2, and CO as tested in argon and nitrogen using APIMS analyzer
Flammable Gases: Silane, Hydrogen, Methane, Ethane, Cyclopropane, Propane, Dimethyl Ether, Ethylene, Propylene, Carbonyl Sulfide
< 1 ppb H2O, CO2, O2, and CO as tested in argon, nitrogen, and hydrogen using APIMS analyzer
< 1 ppb H2O as tested in carbon monoxide using trace moisture analyzer
H2O and siloxanes removed to trace levels as tested in silane using APIMS
Carbon Monoxide
< 10 ppb Ni(CO)4 and < 1 ppb Fe(CO)5 as tested in carbon monoxide using GC-ECD analyzer
Fluoromethane, Difluoromethane, Trifluoromethane, Tetrafluoroethane, Pentafluoroethane, Heptafluoropropane, Carbon Tetrafluoride, Perfluoropropane, Perfluorocyclobutane, Hexafluoroethane
< 1 ppb H2O, CO2, and CO as tested in argon and nitrogen using APIMS analyzer
< 1 ppb O2 as tested in trifluoromethane using trace oxygen analyzer
< 10 ppb H2O as tested in trifluomethane using trace moisture analyzer and FTIR
Germane
< 1 ppb H2O, CO2, and O2 as tested in argon using APIMS
Sulfur Hexafluoride
< 1 ppb H2O, CO2, O2, and CO as tested in argon and nitrogen
Oxygenated Gases: Carbon Dioxide, Oxygen, Nitrous Oxide
< 1 ppb H2O and CO2 as tested in argon using APIMS analyzer
Chlorinated Gases: Boron Trichloride, Chlorine, Trichlorosilane, Dichlorosilane
< 1 ppb H2O and CO2 as tested in argon using APIMS analyzer
Hydrogen Chloride
< 15 ppb H2O as tested in hydrogen chloride using CRDS
< 1 ppb H2O as tested in argon using APIMS analyzer
Hydrogen Bromide
< 50 ppb H2O as tested in hydrogen bromide using CRDS
< 1 ppb H2O as tested in argon using APIMS analyzer
Photolithography Clean Dry Air
< 1 ppb H2O as tested in argon using APIMS analyzer
< 300 ppt C4H8 as tested in argon using APIMS analyzer
< 10 ppt SO2 as tested in nitrogen using ion chromatograph
< 15 ppt NH3 as tested in nitrogen using ion chromatograph
< 1 ppt HMDSO as tested in argon using APIMS analyzer and baseline subtraction
Dimensions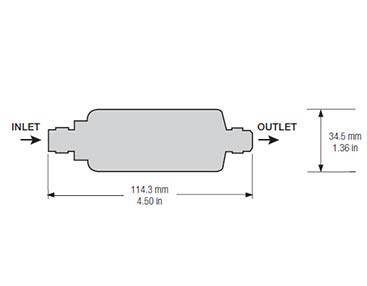 Part Numbers / Ordering Information
Part Number Specification
Specific Gas
Effluent Impurity Specifications
GLP6INPVMM4
Inert Gases: Nitrogen, Argon, Helium, Xenon, Krypton, Neon
< 1 ppb H2O, CO2, O2, CO
GLP6SIPVMM4
Flammable Gases: Silane, Hydrogen, Methane, Ethane, Cyclopropane, Propane, Dimethyl Ether, Ethylene, Propylene, Carbonyl Sulfide Carbon Monoxide
< 1 ppb H2O, CO2, O2, CO
< 1 ppb H2O, O2, CO2, Fe(CO)5 < 10 ppb Ni(CO)4
GLP6FCPVMM4
Fluoromethane, Difluoromethane, Trifluoromethane, Tetrafluoroethane, Pentafluoroethane, Heptafluoropropane, Carbon Tetrafluoride, Perfluoropropane, Perfluorocyclobutane, Hexafluoroethane
< 1 ppb H2O, CO2, O2
GLP6GEH4PVMM4
Germane
< 1 ppb H2O, CO2, O2, CO
GLP6SF6PVMM4
Sulfur Hexafluoride
< 1 ppb H2O, CO2, O2, CO
GLP6OXPVMM4
Oxygenated Gases: Carbon Dioxide, Oxygen, Nitrous Oxide
< 10 ppb H2O
GLP6CLXPVMM4
Chlorinated Gases: Boron Trichloride, Chlorine, Trichlorosilane, Dichlorosilane
< 100 ppb H2O
GLP6HCLPVMM4
Hydrogen Chloride
< 15 ppb H2O
GLP6HBRPVMM4
Hydrogen Bromide
< 50 ppb H2O
GLP6CDAPVMM4
Photolithography clean dry air
< 1 ppb H2O, < 300 ppt organics (as C4), < 10 ppt acid gases (as SO2), < 15 ppt basic gases (as NH3), < 1 ppt refractory compounds (as HMDSO)