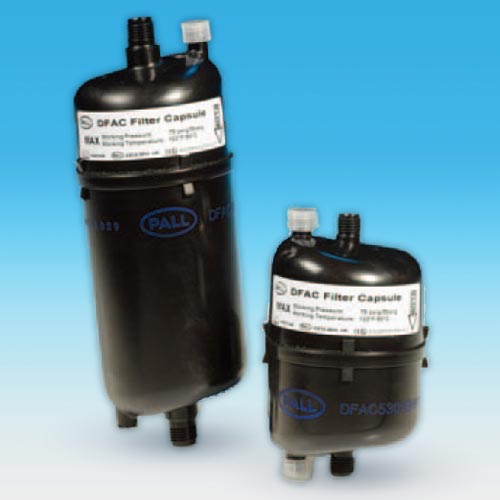 Need Help?

More Information

Description
Large-Capacity Capsule Filters for Ink Jet Ink Filtration and Critical Printhead Protection On Larger Digital Printing Systems
The DFAC filter capsule is a large-capacity, self-contained filter developed for larger digital printing systems that require increased ink flow rates.
This filter capsule extends the capabilities of the DFA capsule with new features specifically for the digital printing market.
Among these features is an opaque exterior shell to protect against UV-light intrusion, large-bore connections to minimize pressure loss, and a wide range of industry-accepted media appropriate for most digital printing applications.
Two capsule sizes are available, with twice and four times the capacity of the popular Multiple Application Capsule (MAC).
Filter media offerings include Profile
®
Star media and HDC
®
II media in six grades, with ratings from 3 μm to 20 μm.
Features
Compact assembly with high flow capacity filter
The DFAC filter capsule features both a compact assembly and a pleated filter with high flow capability. This is a critical combination in high-flow recirculating ink systems, where consistent flow rates are required for accurate jetting.
Opaque capsule
The black polypropylene exterior housing protects against UV light and prevents ink from curing inside the filter. This capsule is also suitable for ink chemistries that are not UV curable.
Key media options for digital printing
Profile Star and HDC II filter media are available. Profile Star media is an industry standard, with excellent gel-retention capability and long life. HDC II media has a pleated, high-area design with excellent flow rates.
Easy change large-bore connections
Large-bore inlet and outlet connections are present in both size capsules to minimize pressure loss. The standard connections are Swagelok*-compatible compression fittings, with available 6 mm and 8 mm connections.
Venting capability
The heavy-duty, compression-fitting vents allow for venting at start-up (recommended) or periodic venting as needed, or serve as connections for continuous venting, if required.
All-polymeric construction
The all-polypropylene construction of the filter capsule makes it suitable for use with most ink jet ink formulations.
*Swagelok is a trademark of Swagelok Company.
Features
Advantages
Value
Filter media consistent with other Pall ink jet capsules
Seamless scale-up with industry-accepted filter media
Fewer transition issues when developing new printer platforms
Rugged Swagelok-compatible compression-fitting connections
Easy and quick filter change; no fitting change required
Minimal ink loss and printer downtime
Binders, glues, and mold release agents not used
Low extractables from filter components
No changes to ink properties from additional materials
Compact capsule with minimal dead space
Rapid capsule priming at start-up
Reduced ink loss and printer downtime
Rugged, molded-in vent connections
Able to vent quickly at start-up and/or continuously during operation
Virtually eliminates air entrapment during operation