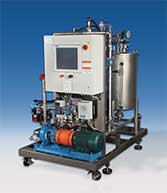 Need Help?

More Information

Description
The SBC Crossflow Unit is a semi-automated pilot and small batch production system for use with liquid applications in the ink jet and microelectronics industries. This system is designed with the flexibility to run a full length Microza1, Membralox®, or Schumasiv® crossflow module in a number of different operating modes, including diafiltration, concentration, and purification.
User-friendly and simple to operate, the SBC Crossflow Unit allows easy retrieval of process data2 with minimal operator involvement. Values for critical parameters are selected using a simple two-step process that involves a touch screen and pop-up keypad.
Data acquired during a piloting run can be easily pulled and transferred to a .CSV file, which can then be opened in a standard spreadsheet for analysis.2 Data transfer can be accomplished on-site or remotely, using either a wireless connection or the unit's designated IP address.