Optimized Hybrid of Depth and
Pleated Filtration Technologies
The Poly-Fine® XLD filter is an innovative synthesis of depth and pleated filtration technologies. This product combines the high flow capacity and low pressure loss of pleated filters, with the gel retention capability and long life of a depth filter.
The Poly-Fine XLD filter is an excellent choice for a wide range of digital printing inks.
The construction of the Poly-Fine XLD filter has been tailored to meet the needs of digital ink formulation and the all-polypropylene construction is compatible with many of the current ink jet ink chemistries. The multi-layer media structure has been developed with fine dispersion classification and gel retention in mind.
Reference Pall literature publication 1254-B "Filtration Solutions for Ink Jet Ink Formulation" for specific recommendations.
Features and Benefits
Poly-Fine XLD filters are pleated-depth filters with all-polypropylene construction.
Four nominal filter lengths are available: 10''/254mm, 20''/508mm, 30''/762mm, and 40''/1016mm.
Poly-Fine XLD filters for digital ink filtration are available in key removal ratings from 1.5 to10µm absolute (coarser grades are available for other applications).
Features
Advantages
Benefits
Optimized media structure
Improved dispersion classification performance
Effectively removes oversized material with minimum removal of colorant
Absolute rated filter media
Consistent, repeatable filtration performance
Dependable ink quality on every batch
Thick media structure
Excellent gel retention
Increased ink cleanliness and printer performance
All-polypropylene construction
Excellent compatibility with most digital ink chemistries
Ink chemists need to approve only one material for new ink formulations
High void volume media structure
Significant porosity to capture and retain contaminant
Long service life and low filter cost per gallon
Robust construction for higher viscosity fluids
Filter pleats will resist pleat deformation when filtering higher viscosity digital inks
Even pleat flow throughout service life for maximum media utilization and long service life.
Cartridges are free of surfactants, binders, resins and adhesives
Very low extractables in most ink systems
No impact on critical ink properties
Micrograph of Poly-Fine XLD Series filter media (magnification x 500)

Outer Pre-Filtration Layer 1

Pre-Filtration Layer 2

Pre-Filtration Layer 3

Inner Final Filtration Layer
(Constant Pore Size)
Typical Liquid Flow Rate versus Differential Pressure3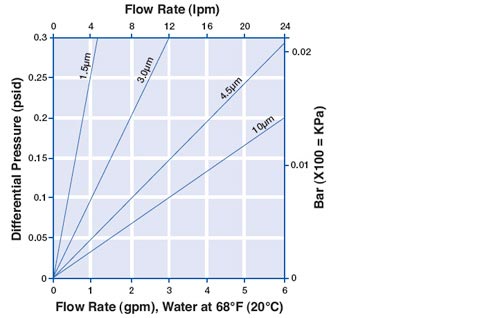 3 Flow rate is per 10"/254mm cartridge. For liquids with viscosities differing from water, multiply the pressure drop by the viscosity in centipoise (cP)
Materials of Construction
Filter Media
Polypropylene
Core, Cage and Endcaps
Polypropylene
Gaskets/O-Rings
Ethylene Propylene (EPDM)(1)
(1)Please contact Pall for other available materials
Operating Conditions(2)
Maximum operating differential pressures and temperatures in compatible fluids:
Operating Temperature
Maximum Differential Pressure
68 °F/20 °C
75 psid/5.1 bard
150 °F/65 °C
40 psid/2.8 bard
(2)Fluids that do not soften, swell or adversely affect the filter or materials of construction
This is a guide to part number structure only. For availability of specific options, please consult Pall.

Table 1
Code
Absolute Removal Rating(4)
1.5
1.5μm
3
3.0μm
4.5
4.5μm
10
10μm
(4) Based on >99.9% Retention Rating by ASTM F-795 Test
Table 2
Code
Cartridge Length
10
10 in.
20
20 in.
30
30 in.
40
40 in.
Table 3
Code
Hardware
U
Polypropylene
Table 4
Code
Gasket/O-ring Material
E
EPDM (standard)
V
'Viton' A
N
Buna N
Table 5
Code
End Configuration
No Code
Double-Open End (DOE)
M3
SOE, flat closed end, external 222 o-rings
M7
SOE, fin end, external 226 o-rings
M8
SOE, fin end, external 222 o-rings
Table 6
Code
Special Ink Jet Specification
147
Preflushed cartridge with optimized media