Datasheets
Download:
Service Instructions
Download:
Next Generation Capsule Filter Designed to Ensure Critical Protection of Ink Jet Printheads and Optimum Digital Printer Performance
The Multiple Application Capsule (MAC) is a self-contained filter assembly designed to meet the ever increasing needs of the digital ink jet printer. This unique capsule will provide a high level of printhead protection and long service life in ink jet applications. Both the standard and UV-resistant MAC filter assemblies offer flexibility in filter media and connector options that allow for easy customization of the product.
Correct media selection can impact filter performance characteristics such as pressure loss, gel retention and service life. The MAC filter offers four high-efficiency (ß-5000 rated) Pall media to meet your digital printing filtration goals: HDC® II, pleated Profile® Star, Profile® II and Ultipor® GF Plus media.
Features
Compact Filter Capsule with Ink-Jet-Specific Features
The MAC filter is designed to meet the digital printing OEM's needs with several key features: a compact form to minimize internal ink volume and waste, an optional UV-resistant housing to prevent ink curing, and an anti-roll design to reduce ink spillage.
Dual-Filtration Design
The MAC filter with pleated media features an integral high-performance last chance filter for the assurance of maximum cleanliness without a sacrifice in pressure loss.
Robust Design and Construction
The MAC filter features a robust, thick-wall construction with integrally molded connectors to serve the needs of OEMs using solvent-based inks. This premium construction, in combination with highcapacity filter media will yield a long service life.
User-Friendly Connector Options
A wide range of connector options are available on the MAC filter. For fast, clean filter changes, CPC* quick-release and standard Luer-Lok* compatible connections are available. In systems that use rigid tubing, two available sizes of Jaco* fittings are ideal compression fitting options. In addition, other standard connection types are available, such as NPT and hose barb.
All-Polymeric Capsule Construction
UL-Recognized Housing Material - The standard MAC filter housing components are manufactured using a polypropylene with a UL94HB classification.
UV-Resistant Housing Material - The UVresistant MAC filter housing contains an additional carbon black filler for protection from UV light.
Features
Advantages
Benefits
Dual filtration capability
Can be used as part of a Total Cleanliness program
Maximum printhead protection
Choice of filter media options
Optimized ink filtration
Consistent, reliable printing performance
Opaque capsule option
Offers protection from UV light
Prevents curing of the UV fluids during filtration
No binders, glues or mould release agents are employed
Low extractables
Good chemical compatibility and economical disposal
Anti-roll design and quick release connections
Reduces ink spillage
Quick and easy filter changeouts
* CPC is a trademark of Colder Products Company; Luer-Lok is a trademark of Becton, Dickinson, and Company; Jaco is a trademark of Jaco Manufacturing Company; UL is a trademark of Underwriters Laboratories Inc.
Materials of Construction
Filter media
Polypropylene (Profile II, Profile Star, HDC II) Resin-bonded microfiber on polyester subtrate (Ultipor GF Plus media)
Core, housing and endcaps
Polypropylene / Polyethylene
Standard housing
Polypropylene (UL 94HB Classification)
Operating Conditions1
Maximum allowable pressure
6.5 barg / 94 psig
Maximum allowable temperature
50 °C / 122 °F
1 Fluids that do not soften, swell or adversely affect the filter or materials of construction.
Differential Pressure Calculation
The estimated differential pressure (ΔP) for any MAC filter can be calculated using the following formula:
ΔP (psid) = ([flow (lpm)]2 x Factor 'A') + ([flow (lpm)] x Factor 'B' x viscosity [cps])
ΔP (mbar) = ΔP (psid) x 68.9
Connector Code
Housing Factor A
1
0.16
1R
0.50
2
1.61
3
0.05
5
0.23
7
1.20
7R
1.90
8
0.13
Media Grade
Cartridge Factor B
A015
0.98
A030
0.67
A050
0.35
A100
0.19
J012
0.89
J025
0.39
J045
0.25
J060
0.09
Y050
0.89
Y100
0.25
Y200
0.09

MAC Assembly and Installation Procedures
Filter Media Options
Profile II Media
Profile Star Media

Depth filter structure
Continuously tapered for exceptional service life
Most economical option

Hybrid pleated depth filter
Excellent gel removal and retention
Primary recommendation for digital printing systems
HDC II Media
Ultipor GF Plus Media

High-area pleated construction
Low pressure loss
High flow rate capacity

Good compatibility with many ink types
Fine filtration with low pressure loss
Pleated construction
Dimensional Drawing – Standard Configuration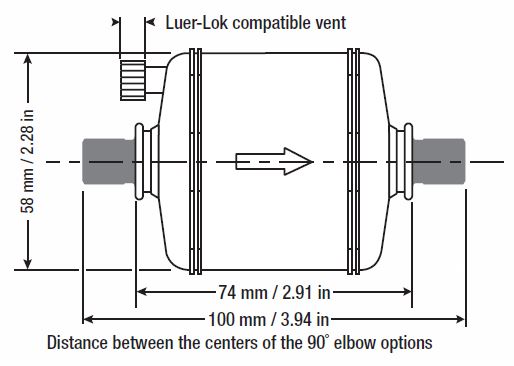 Sample Drawing with Dual Vent Option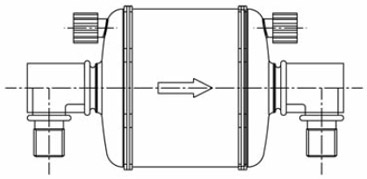 Sample Drawing with No Vent Option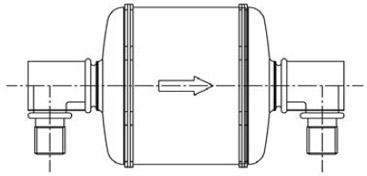 The Multiple Application Capsule is Available with the Following Connector Configurations.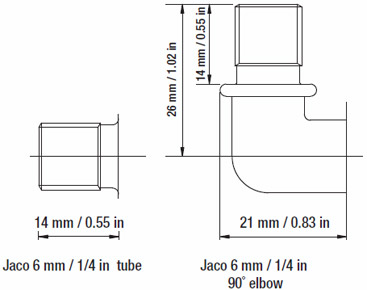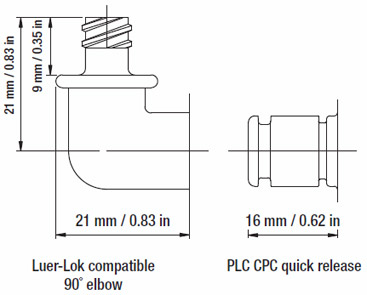 Ordering Information / Part Numbers2
M A C
[1] [2] [3] [4] [5]
Code 1
 
W
Standard
C
UV resistant (black)
Code 2
Removal Rating3
Profile Star Media
A010
1 μm
A015
1.5 μm
A030
3 μm
A050
5 μm
A100
10 μm
A200
20 μm
A400
40 μm
Profile II Media
Y005
0.5 μm
Y010
1 μm
Y030
3 μm
Y050
5 μm
Y100
10 μm
HDC II Media
J006
0.6 μm
J012
1.2 μm
J025
2.5 μm
J045
4.5 μm
J060
6 μm
J100
10 μm
Ultipor GF Plus Media
U030Z
3 μm
Code 3
Connector
1
Jaco 6mm / 1⁄4 in. tube
1R
Jaco 6mm / 1⁄4 in. tube, 90° elbow
2
Jaco 1⁄8 in. tube
3
1⁄4 in. NPT
5
1⁄4 in. hose barb
7
Luer-Lok compatible
7R
Luer-Lok compatible, 90° elbow
8
1⁄4 in. CPC quick release (PLC 12 series)
Code 4
Seal Option4
J
EPR
Code 5
Vent Option
None
Single vent (standard)
D
Dual vent
N
No vent
2 This is a guide to the part numbering structure only. For availability of specific options, please contact your local Pall representative.
3 Based on the modified OSU-F2 test in water.
4 Only required for Code 8 connector option.