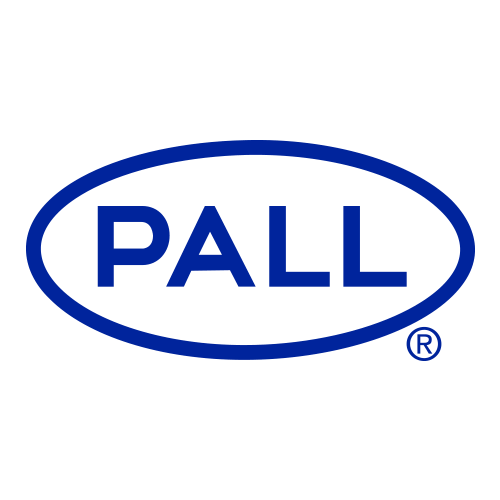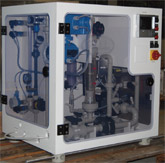 Need Help?

More Information

Description
A Compact System Design
for Application Development
The VariMem pilot unit is designed for rapid evaluation of small volumes of liquid requiring a concentration, separation and/or purification process. The unit is ideal as an efficient screening tool for initial development work. It also facilitates rationalization of various separation processes. Feasibility testing with the benchtop unit provides a qualitative insight to separation performance and parameter optimization, as well as an early indication of process economics.
A Key Tool in Process Development
The VariMem benchtop pilot system can be used to evaluate process parameters utilizing Pall microfiltration (MF) or ultrafiltration (UF) membrane test modules. These modules include both polymeric hollow fiber modules and ceramic, multichannel elements.
As few as eight liters of sample volume are sufficient to provide data on how membrane pore size, membrane composition and operating parameters influence the separation process. Larger volumes are required to achieve higher concentration factors. Data can also be generated on how variability in test samples influences system performance. This feedback can be helpful in modifying process conditions.
The unique VariMem pilot unit allows relatively high concentration factors to be achieved within a few short hours. This can be accomplished because the benchtop unit has a low hold-up volume (five liters) and can accommodate up to three hollow fiber modules having a total of 0.6 m
2
(6.5 ft
2
). In addition to batch processing, the automated feed valve (

in the schematic) also enables the benchtop system to operate in a "fed-batch" mode for several hours, without supervision. This userfriendly system is enclosed in a single cabinet, small enough to fit on a laboratory bench.
The VariMem unit has a broad range of settings to optimize test conditions. All operating parameters, including permeate flow rates, are monitored and recorded electronically by an integral control unit. Typical products that may be tested are aqueous colloidal suspensions, such as grinding, sawing or CMP wastewaters.
Designed to Investigate Operating Parameters
Unit accommodates up to three MICROZA* 1 inch diameter MF or UF modules having 0.12 - 0.2 m2 (1.3 – 2.2 ft2) of membrane area per module or one, full-sized, 19 channel ceramic element (Schumasiv™, Membralox®), with up to 0.36 m2 (3.3 ft2) of membrane area, installed in a stainless steel housing
Crossflow velocity can be adjusted over a wide range, up to 6 m/s, with the variable speed recirculation pump.
Module inlet pressure is automatically controlled.
Flux can be optimized via the automated back-pulse unit () with its adjustable pulse frequency, intensity and duration.
Liquid level in the recirculation tank () is automatically controlled. This enables the system to be operated unattended for extended periods, in a "fed-batch" mode, to achieve relatively high concentration factors.
Pilot unit contains a digital data-logger for monitoring and recording.
Safety controls will prevent operation with insufficient liquid
* MICROZA is a trademark of Asahi Kasei Corporation
Specifications
VariMem Pilot Unit Schematic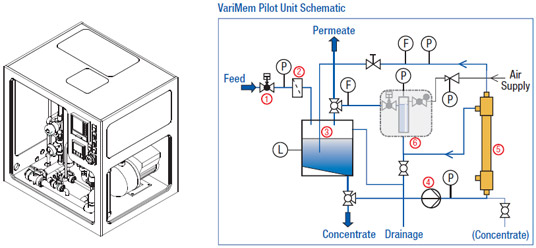 VariMem Pilot Equipment
 Feed valve
Controlled by recirculation tank level
 Feed strainer
 Recirculation tank
55-liter capacity
Automated level control
 Recirculation pump
Fluid viscosity: up to 50 mPa•s
Standard mechanical shaft seal
Impeller and housing material: stainless steel
Variable speed (frequency-controlled) drive
Constant pressure control
 Membrane modules
Up to three MICROZA, 1 inch diameter MF/UF modules having 0.12 - 0.2 m2 (1.3 - 2.2 ft2) per module.
Choice of separation rating:


UF: 3, 4, 6, 10,13, 50, 80 and 100 kilo Daltons (kD)
MF: 0.1, 0.2 μm

or
One stainless steel housing with one ceramic MF/UF multi-channel element, Membralox or Schumasiv, up to 0.36 m2 ( 3.9 ft2). Choice of:

UF: 1 kD, 5 kD, 5-100 nm
MF: 0.1-5 μm
 Back pulse / reverse Filtration unit
Ancillary equipment
Instrumentation for automated tests
1 data-logger
1 mini PLC
1 external transformer 230 V – 110 V (optional)
Utilities
Power supply: 230 V, 1 phase 50 or 60 Hz. Other electrical options upon request
Air supply: 0.6 – 0.8 MPa ( 87 – 116 psig); dry, filtered, oil-free
System assembly
Operating volume: 5 - 60 liters
Unit is housed in a polypropylene cabinet with transparent PVC doors
Size (L x W x H): 830 x 665 x 850 mm (33 x 26 x 34 in.)
Weight:


Dry: 60 kg (134 pounds)
In operation: 100 kg (221 pounds)