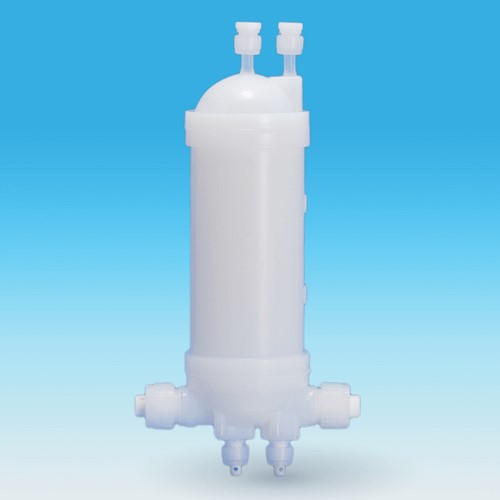 Need Help?

More Information

Description
The UltiKleen G3 Excellar ER filter combines enhanced retention (ER) and improved non-dewetting properties to enable semiconductor makers to meet the critical chemical process filtration requirements beyond the 45 nm manufacturing node.
The UltiKleen G3 Excellar ER filter media is made using Pall's proprietary Molecular Surface Tailoring (MST) technology. The advanced PTFE membrane has a hyperfine pore matrix design that provides a significant improvement in the retention of deep sub-micron size particles. Designed for critical single-pass point-of-use retention requirements, the UltiKleen G3 Excellar ER filter demonstrates a high flow rate that makes it suitable for recirculation bath applications.
Pall's non-chemical additive MST process increases the UltiKleen G3 Excellar ER filter's wettability in aqueous chemicals including SPM, SC-1 and SC-2. Pall's advanced ultra low extractables Me-Kleen
SM
K7 post-treatment process is also available to reduce metal ion extractables to a low single digit ppb total.
The UltiKleen G3 KC assembly has a slightly larger diameter while maintaining the same face-to-face sealing distance as the UltiKleen G2 KC (T– flow) assembly. The increased diameter accommodates a larger format UltiKleen Excellar ER filter with significantly increased filter area for increased flow rates and longer service life.
Features
Enhanced retention (ER) of particles
Hyperfine PTFE media matrix design
Increased filer area of 4.4 m2/47.4 ft2
High flow rates
All ultra high purity fluoro-polymer construction
Low extractables (Me-Kleen option is available)
Provided fully prewet with ultrapure water as standard
Downstream core vent reduces potential for bubble collection and premature blockage