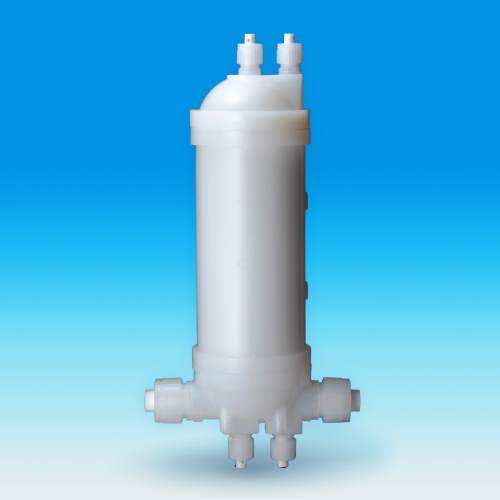 Need Help?

More Information

Description
The XpressKleen™ G3 filter advances PTFE membrane filtration to enable semiconductor makers to meet the critical chemical filtration requirements of leading edge device manufacturing processes. The XpressKleen filter provides control of critical size particles as well as maintaining critical fluid purity with a guarantee of less than 3 ppb of total metal ion extractables per single length filter. The XpressKleen filter's surface cleanliness includes removal of organic contamination and surface particles. This makes the filter suitable for use from the point of supply (POS) to point of process (POP) to help define a contamination control system that delivers the required fluid purity to the wafer. This is accomplished by Pall's completely integrated manufacturing capability that extends from the PTFE resin to the finished filter device. Pall's advanced manufacturing process (AMP), incorporates the latest clean room manufacturing and state-of-the-art proprietary cleaning steps with improved statistical process control to ensure reliability and performance.
The XpressKleen G3 KC assembly has a slightly larger diameter while maintaining the same face-to-face sealing distance as the XpressKleen G2 KC (T-flow) assembly. The increased diameter accommodates a larger format XpressKleen filter with significantly increased filter area for increased flow rates and longer service life.
The XpressKleen G3 filter medium is made using Pall's proprietary Molecular Surface Tailoring (MST) technology. The nondewetting XpressKleen G2 filter is qualified for use in aggressive high temperature cleaning chemistries, including aqueous chemistries such as SC1 and SC2.
Low extractables
> 40 nm particle rinse up control in UPW1
TOC control
100% prewetted shipment with ultrapure water package
High flow rates
T-flow G3 KC assembly available with downstream venting
Disposable filter unit with filter cartridge integrally sealed in housing
Sealed assembly for safer handling and faster changeout
100% integrity tested
1>20nm particle rinse up control in UPW for 5 nm grade