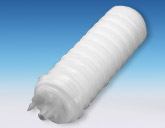 Need Help?

More Information

Description
The Pall FLUORYTE™ High Flow Filter is available in a Kleen-Change assembly with 0.1 μm and 0.05 μm retention ratings. The Pall Fluoryte filter offers a combination of proprietary PTFE membrane and specially engineered PTFE support material to provide superior flow performance for these sub-micron rated filters.
The Kleen-Change assembly is a completely disposable filter unit that combines the Fluoryte High Flow filter with Pall's all PFA housing. This provides a high flow disposable assembly option for today's demanding chemical applications. Designed for use where high flow, high temperature and pressure or high viscosity fluids require 0.05 μm retention.
All high purity fluoro-polymer materials ensures excellent cleanliness
Very high flow rates
Eliminates O-rings
Low extractables
Compatible with virtually all chemicals1
100% integrity tested
Low metal ion extractable option
1 Consult Pall Microelectronics for recommendations for Hot Phosphoric or Hot Sulfuric, SPM, above 90 °C.