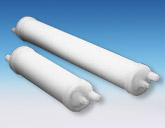 Need Help?

More Information

Description
Kleen-Change In-Line Capsules are designed for the filtration of a broad range of slurries and liquids compatible with its all polypropylene construction.
A Pall Profile® II, Profile Star or CMPure filter element is permanently welded into each capsule, eliminating extractables and chemical incompatibility of elastomeric seals, as well as preventing errors due to incorrect cartridge installation.
Disposable cartridges minimize operator contact with fluid during changeover.
Use of disposable capsules speeds filter change and reduces equipment downtime.
The unique construction of the Pall depth filters provides for built-in prefiltration, assuring long service life with steady flux rates, and with no breakthrough of contaminants.
Profile and CMPure Depth filters provide a sharp boundary between high transmission of native slurry particles and removal of large particles, gels and aggregates.
Available in various lengths to accommodate 254 mm / 10" (onehigh) to 508 mm / 20" (two-high) long filter elements and with 3⁄8 in. or 3⁄4 in. Flaretek1 inlet/outlet connections for handling a variety of flow rates.
The in-line construction permits flow from the bottom of the capsule, potentially resulting in re-suspension of unstable slurries.
Very low hold-up volumes ensure minimum slurry wastage during change-out.
Disposable capsules eliminate housing cleaning costs, as well as reducing potential contamination.
1 Flaretek is a trademark of Entegris Inc.