The Gasket-Sert PSP W-seal filter is designed to protect major components of gas panels in semiconductor gas
distribution systems. The W-seal gasket is easy to install into any system that uses W-seal-type components.
For detailed information about this product, please refer to the data sheet. (To download this data sheet, select Download PDF from the menu above.)
Feature
Benefit
Value
Welded to W-seal gasket
Filter can replace any W-seal gasket
Lower installation
cost
Contains alignment retainer
Easy installation into system with
minimal operator handling
Lower labor cost
All stainless steel
construction
Broad compatibility with semiconductor
process gases
Long service life
No housing required
No hold-up volume and zero gas
displacement
Faster start-up time
Cleanroom packaged
High level of cleanliness
Faster start-up time
0.4 μm particle removal
rating
Filter protects critical components such
as regulators and MFCs
Lower cost of
ownership
Low differential pressure
High flow rates with minimal flow
restriction
Long service life
Wetted Materials
Medium: 316L stainless steel (filter and gasket)
Removal Rating1
≥ 0.4 μm at 99.9% efficiency
Operating Conditions
Maximum operating temperature Inert gases: 300 ˚C / 572 ˚F Anhydrous corrosive gases: 30 ˚C / 86 ˚F
Maximum differential pressure Inside out: 0.7 MPa at 38 ˚C / 100 psid at 100 ˚F Outside in: 1.4 MPa at 38 ˚C / 200 psid at 100 ˚F
1 Particle rating is based on laboratory testing with NaCl aerosol.
Pressure Drop vs. Gas Flow Rate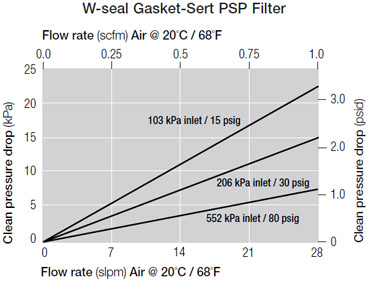 Dimensions

Part Number
Wetted Materials of Construction
Fitting Type
CNF1104UPSG2
All 316L stainless steel
11⁄8 in. W-seal gasket
Unit conversion:
100 kilopascals = 1 bar