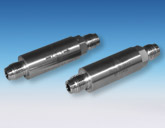 Need Help?

More Information

Description
The Pall Gaskleen® SP purifier assembly protects zirconium oxide (ZrO
2
) sensors used in oxygen analyzers. The purifier removes harmful contaminants, which cause drifts in the oxygen analyzer readings and degradation of the electrode performance. Use of this purifier does not affect oxygen levels in the process stream.
State-of-the-art 316L stainless steel filter media with proprietary metal catalyst
Compact size
100% helium leak tested
Cleanroom manufactured and packaged
Ideally suited for use in RTP, LPCVD and PECVD exhaust gas applications
Product Benefits
Extends the time between sensor calibrations, which maximizes tool uptime and ensures accuracy of the instrument's readings.
In-line configuration allows for easy installation upstream of the oxygen analyzer.
The integral filter provides particle removal down to 3 nm.
Flow rates up to 1 slpm.
Products in this datasheet may be covered by one or more patents, including US 7,438,864